I've got a piece up on Sportsnet right now talking about the Leafs contract negotiations with Dave Bolland. It includes this graph of how the salaries of the Xth highest paid centre in the NHL have changed since 2003-04.
The point I'm trying to make is that it's sort of odd that the big salary growth has taken place down the line – the 20th through 80th highest paid centres or so have all enjoyed salary growth that's higher than the league average salary growth for centres. If you suspect that this is growth driven by the structure of the post-2005 NHL, in which all teams are required to spend money within a narrow band, it's reasonable to be suspicious that this salary growth doesn't necessarily correspond to how good those types of players are. It may be that the NHL's structure has resulted in the NHL becoming much less efficient at delivering the money to the players who deliver the results (I think it has) and that teams should be leery of committing to guys like that.
I was curious about how salaries have changed for defencemen and goalies too, so I put together the appropriate graphs. For the defencemen, I took the top 180 guys in terms of TOI in 2003-04 and 2013-14 and then sorted them by salary. That produces the following graph.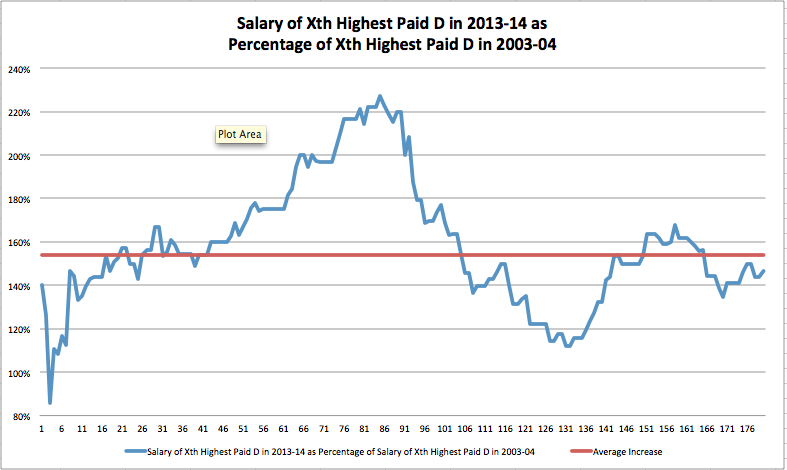 The defencemen have enjoyed much bigger salary increases than the centres, for some reason. The centres are up 26%; defencemen are up 54%. The really massive increases have gone to the D who are between about 45 and 105 on the pay charts. The highest paid guys have enjoyed much less in the way of salary increases, with Zdeno Chara, third in 2013-14 salary, actually making less than Rob Blake, third in 2003-04 salary did.
Have the guys between 45 and 105 become that much more valuable relative to the top-end guys? I doubt it. The one concern that I have with this comparison is that non-UFA age defenders probably used to be underpaid relative to FA guys and some of this change represents guys in their mid-20s getting paid – Drew Doughty and Alex Pietrangelo. Even with that though, this still doesn't really make sense to me. There are some nice players in the 45-105 spots on this list but there are a ton of guys who you look at and wonder if they're anything more than fifth or sixth defencemen.
What about goalies? Even odder. With goalies, I just compared the 50 highest salaries in 2003-04 and 2013-14.
The goalie salaries have increased about as much as the centres – 25% or so. Again, the growth isn't with the stars but down the line, with the big increase occurring from about 28 on.
On the one hand, this is kind of puzzling. Most people I know who talk about goaltending figure that outside the top five or ten guys or so, the differences start to get pretty marginal and can be easily swamped by chance. It's bizarre that the top end of the goaltending market, where you can find people you can be relatively comfortable are difference makers, hasn't really enjoyed much in the way of appreciation post-2005. Meanwhile, further down the line, guys are getting paid.
I'm not as surprised by the big increase for guys beyond 30 or so on the pay list. What's the difference between 35th and 20th best goalie in the NHL? Probably not much. I can see an argument that once you're out of the elite, buying two guys and letting them fight it out makes sense. That may well result in salary charts like this.
What does this all mean, in the big picture? I'm as convinced as I ever was that real stars are underpaid. I'll be interested to see if some team ever decides to kind of operate on that premise. Take Phoenix as an example. Over the past four years, they've made the playoffs three times, just missing last year by four points.
They've finished each of those seasons with between $9MM and $13MM in payroll room. The question, it seems to me, is what a competent team willing to spend to the cap could do if it paid, for example, Steve Stamkos, $16MM per year. There's been an assumption in hockey that you can't win like that, an assumption that's probably at least partly due to the troubles that Tampa had in the late mid-aughties, when they were spending big money (for the time) on Vincent Lecavalier, Brad Richards and Martin St. Louis. I'm not sure that that's the case, because I look at Phoenix and I wonder how good they'd be if you plunked Stamkos into their team (this assumes that they could afford to be a cap team).
Put another way: if Phoenix can ice a competitive team with a pile of cap room by shopping after the rich clubs have grabbed all the sexy Dave Bollands off the pile and paid them big money, doesn't that suggest that, in fact, a Phoenix type team with some real star power added at top end wages could be a contender? I'm inclined to think that the answer is yes.
Email Tyler Dellow at
mc79hockey@gmail.com