Well, you haven't really done anything as a hockey analytics guy until you've had a spreadsheet in which you recorded the zone entries and exits in the 21 seconds following 135 Oilers defensive zone faceoffs with Taylor Hall on the ice in 2013-14 blow up and leave you with nothing but your own recollection of what it said. This happened to me a few hours ago. There's no way I'm going to do the work again because it's tedious enough doing this sort of entry the first time, which sucks because it was really fascinating stuff, but I can recall a few critical things that will help me get at least one post out of it. C'est la vie.
As certain people (like me) have beaten in the ground, Taylor Hall had a very good Corsi% from 2011-13 (51.4%) and then his Corsi% stunk this year (44.4%). Some don't really think this matters because POINTZ! but you can't show me a contending team with a first line running up a Corsi% like Hall. When the Oilers become a contender, Hall's going to be putting up a Corsi% north of 53%.
The question of why he ended this year further from that mark than he did his second and third year in the NHL is a fascinating one to me. It seems to me that there are three options. First, this Oilers team might have been markedly worse than the 2011-13 Oilers. I don't really believe that to be the case. Look at the roster. A lot of the key guys on the 2013-14 Oilers were the same guys on the 2011-13 Oilers, except closer to the prime of their careers. Second, there could be something physically wrong with Hall. As a proud watcher of the games, I don't really believe this to be the case. Third, the Oilers made some sort of a change that hurt them when Hall's out there. I think that this is where the answer is.
As I've mentioned a few times, I like to break things down at 5v5 into different game states based on whether there's been a faceoff in the preceding X seconds, where it was and who won it. X changes depending on the location and outcome of the last draw. I was slicing and dicing the numbers with the Oilers and Hall and noticed something interesting in the 21 seconds after defensive zone wins. Let's look at the data for the Oilers in Hall's career, both with and without him on the ice.
Just for a bit of context, the league average in these situations was about 43% last year, a point lower than the average over the past few years. So the Oilers have stunk at this, except for Renney's last year (we knew not what we had). Hall's had an average year, a very good one and then two awful years: his rookie year and last year.
When I started fiddling with the numbers, I noticed something interesting. Up until Christmas, Hall was doing pretty well following defensive zone faceoff wins. 15 SAF 12 SAA. After Christmas, he got slaughtered: 3 SAF 24 SAA. This got me thinking: if I went through the defensive zone faceoffs in a methodical manner, I could determine how things were different, in terms of zone entries and exits, before and after Christmas.
So I did it. And then my spreadsheet cratered. So I'm left with the one piece of data that I recall. The one, tantalizing piece of data that suggests that there's something going on here. In recording the faceoffs, there were two out of 135 that I thought ought to have been recorded as losses so I ignored them. As it so happened, this gave me 67 defensive zone faceoff wins before Christmas and 66 defensive zone faceoff wins afterwards.
The only bit of data that survived my spreadsheet was a breakdown of the first zone exits following the defensive zone win. They're highly suggestive. I broke them into three categories: carries, dumpouts/other and Didn't Clear Defensive Zone in 21 Seconds/Before Whistle.

Basically, what we see here is that after Christmas, the Oilers turned a bunch of zone exits that involved the puck being carried out into instances in which they weren't able to clear the defensive zone within 21 seconds or before a subsequent whistle. Zone exits are important because exiting the zone with the puck under control increases the chance that you'll enter the offensive zone with the puck under control, which ups your chance of getting shots. It also reduces your chances of seeing the puck immediately shot back into your end. This seems like a poor trade to me and, as we've seen, Hall's results went in the toilet.
So why did that happen? Well, I'd love to be able to go back and look at the video and see if there are any common themes but, regrettably, I can't. I can say that it seemed to me like, after Christmas, the Oilers seemed to run a certain play a lot when they won a defensive zone faceoff and it didn't seem like it was paying off. Essentially, it boiled down to this: they win the faceoff, Hall takes off for the neutral zone and they try to go off the glass. I noticed it so often that I was taking screen captures and tweeting them with sarcastic commentary.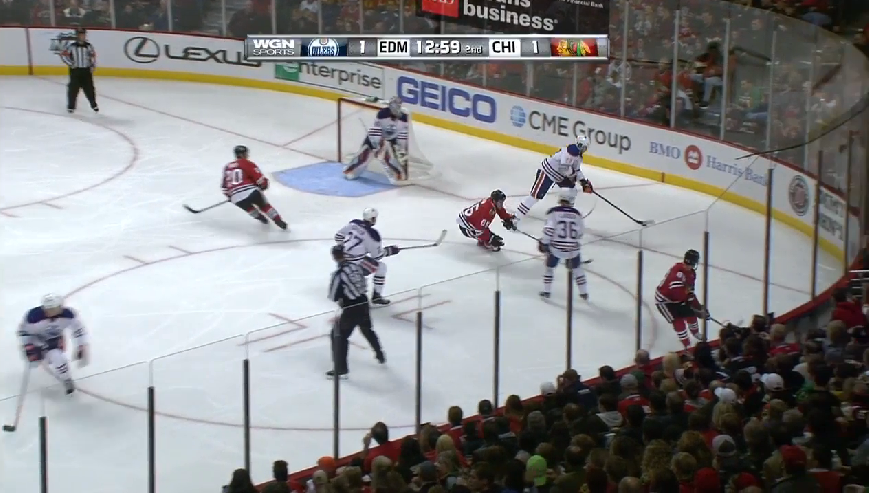 A brief video of three of them:
It seemed to me like this kind of breakout became more common after Christmas, although I acknowledge that this is anecdotal. Further, it seemed like it wasn't working a lot, which is consistent with the Oilers getting murdered with Hall on the ice following DZ wins. A guy with the data I had could easily confirm this. I'm skeptical that this is a good way to break the puck out of your end after you win a defensive zone faceoff.
Just more broadly on that point, I put together a list of how each team in the NHL did in the 21 seconds after winning a 5v5 defensive zone faceoff this year. It's a mixed bag.
Some of those teams, fine, they're flat out better than the Oilers. There are lots of poor to average teams who manage to execute in this situation a heck of a lot better than the Oilers though: Florida, Washington, Nashville, Phoenix, Buffalo, Calgary and the Isles all missed the playoffs; all were much, much better than the Oilers in this situation. I have a hard time believing that it's just an issue of the Oilers players being worse.
Now, I have no idea what any of these teams are doing so much better than the Oilers. It seems, at the very least, possible that they're approaching things differently from a tactical perspective. That seems like the most likely case to me, to be honest, because I'm not sure that they have players who are dramatically better than what the Oilers have. It's an easy enough thing to check: cue up the videos and look at how they're doing it.
I'm not certain that my theory's right as to what, particularly, went wrong. I am reasonably confident that there are fairly straightforward gains to be had with the players that the Oilers have. They aren't going to turn over 80% of the team this year and they aren't going to win anything with Hall running at a 44% Corsi%, so it's something that they'll need to figure out internally.
Email Tyler Dellow at
tyler@mc79hockey.com