It's no secret that the playoffs are in large part a tournament based on luck. If you think about it, the team that wins the Stanley Cup will be, at worst, 16-12. That's against the best half of the league. It's like a 93 point pace in regulation against the best half of the league. The Kings have played at a 107 point pace against San Jose, Anaheim, Chicago and New York. LA earned 88 points in regulation against the league as a whole this year and they haven't played Edmonton in the playoffs. You don't win without things going your way. This is the way hockey works. Every single champion is the benefit of good fortune.
I was fairly bullish on the Rangers heading into the Final. I thought (and still think) that LA was the better team but I figured the Rangers were a lot closer to them than the betting market thought. Through three games, despite LA being up 3-0, I still figure that that's true. Watching this, I've thought that the Rangers have played reasonably well, they just haven't been able to buy a break. I thought I'd take a look at the teams that went up 3-0 over the past three years and how they'd played at 5v5 close in terms of Corsi% and PDO.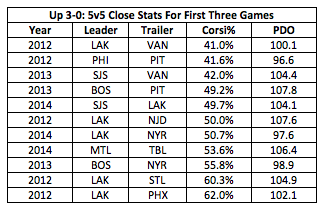 Looking at this, the Rangers haven't really been notably unfortunate amongst teams that have gone down 0-3. Check out the two Canucks teams on this list – poor Alain Vigneault, having coached three of these teams. That PHI-PIT series really was amazing. It's hard to believe that the Pens went down 0-3 despite crushing the Corsi% with the score close AND have a PDO of 103.4. A .667 SV% on the PK will do that to you.
I did find the Rangers having the PDO edge interesting, given that the Corsi's really close and the goals are tied. By implication, that means the Kings are badly outshooting the Rangers. Sure enough, the shots on goal are 64-46. The Rangers have only put 43.8% of their shot attempts on target. 25.7% have missed. 30.5% have been blocked. This is probably just chance – I'd be interested to know what the goal post count is; I can think of at least two – one in OT in G2 and then Mats Zuccarello last night.
My takeaway from this is that hockey's a cruel game. Nothing new there. The Kings are tough enough to beat when you're getting some bounces. When you aren't, it's a tall, tall mountain.
Email Tyler Dellow at
tyler@mc79hockey.com