It turns out that the back half of the alphabet contains a lot more interesting defencemen, so there are many more graphs here. If you missed the first part of this, it's here. What I've done is looked at the Corsi% of famous defencemen compared to their teams when they weren't on the ice in seasons in which they a) played for the same team all year, b) played at least 19 minutes a night and c) played at least 41 games. To the graphs.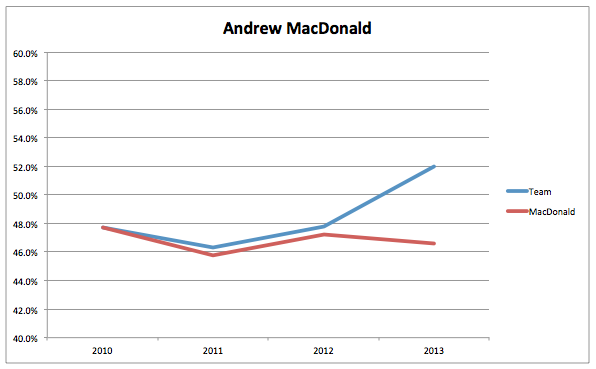 I really think Philly could miss the playoffs next year.
He's going to be a free agent of some note if he gets to UFA but I don't think I'd have a ton of interest in Markov, even before his injury problems come up.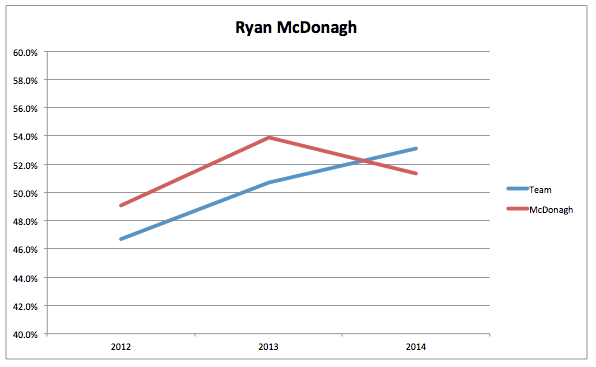 McDonagh looks like a star, particularly when we know that he plays a disproportionate amount of his minutes against the other team's best forwards.
Can YOU guess when Tyler Myers got his huge contract? As better data comes online, we're going to have a much better sense of what drives seasons like he had in 2010-11, when he was a possession machine. There's talk in Buffalo that he bounced back this year; not sure I see it.
Another member of this summer's sterling class of UFA defencemen.
This graph kind of illustrates why I have trouble with people who think that Jeff Petry is the Oilers' problem. His numbers are better than the team's, two years out of three, with Petry playing a lot of tough minutes. The year he was the same as the team, there was a lot of odd stuff going on, with basically one forward line (Hall/Eberle/RNH) doing anything in terms of possession. That makes me a bit suspicious that tactics kind of sewered his numbers.
I've talked a lot about Phaneuf over the past year or so. Suffice it to say that, barring serious injury, I have a hard time believing that he became an awful hockey player. Again, I'm suspicious of the tactics being employed here. When Carlyle replaces Wilson, Phaneuf becomes a disaster.
I really do wonder about defensive defencemen and whether or not it's just a brilliant marketing label for a guy who spends a lot of time in his own end.
Not much to see here – a guy who has made a very good team better when he's on the ice, three years out of four. The numbers back up the reputation.
I find Pronger's numbers here pretty interesting, from the perspective of comparing him with Phaneuf. Obviously, Pronger's a better hockey player. The first two years there are Anaheim, the second two years are Philadelphia. I find it very interesting that Pronger's numbers relative to his team took a big jump when he moved to Philadelphia. As I've said a few times, I'm very suspicious that Carlyle is asking his teams to do things that don't produce good results.
Great trade for the Oilers.
Maybe Pittsburgh's problem isn't so much moral and character failings on the part of Crosby and Malkin as it is defencemen who are boat anchors.
Whither thou goest, I will go. You can't fault Seabrook for being on a good team but it doesn't really seem like he's doing much to push the river. Again, as better data comes online, we'll be able to do a better job of pulling apart the effects that players have on their teams versus that which teams have on their players.
Hard to believe that Buffalo moved him for a second round pick and Jamie McBain. Not hard to believe that Buffalo got worse after that happened. I'd be interested to know what Darcy Regier's rationale for the deal was.
Another guy from St. Louis with a nice stat line, particularly because he didn't play with Pietrangelo very much this year. That undoubtedly provides him with a bit of shelter but he still did something with it.
Year Four of pushing the river in Montreal.
I had to put these guys together, for obvious reasons. They're somewhat polarizing guys in the analytics community because neither has made possession better for the past two years. There are tons of justifications offered for this but if they're really stars, shouldn't they be able to have a visibly positive impact on the game at 5v5 even if they're not paired with stars?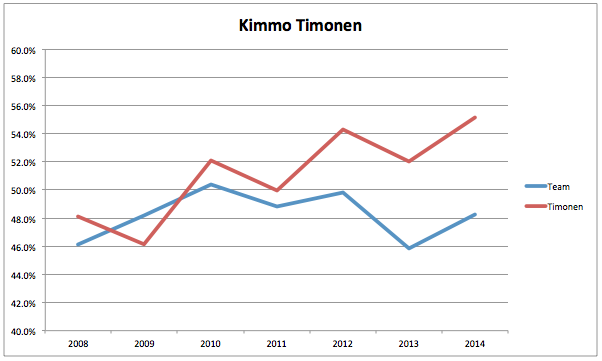 Another potential issue for Philadelphia next year – there's talk that Timonen might retire and the Flyers might have trouble fitting him into their budget anyway. He's been a big possession driver for them the past few years and I'm not sure that they can really afford to lose that, given that there's not a lot available in the market.
Lubo's been dinged up the past few years but he has a fine track record of being better than the various bad teams on which he's played.
Vlasic's kind of funny because he seems like he's been around forever after making the league as a 19 year old. It's interesting to see how his numbers have improved over time – he's gotten better every year for six years. At just 26 years old, you'd think he's set up for a long run as one of the elite defencemen in the NHL. He's on a phenomenal deal for San Jose as well – four more years at $4.25MM per.
It's not a dream – Yandle's done really well over the past few years.
I don't think that this stuff is the only way to evaluate defencemen. Nevertheless, if you're going to evaluate defencemen with data, it does seem like the right place to start to me. From that point forward, you've got to take into account quality of competition, zone starts, who they play with and how they impact special teams.
It is interesting to me that, even without those things taken into account, most of the guys you'd think are star defencemen look like star defencemen. That makes me a lot more comfortable wondering about guys like Suter, Weber and Bouwmeester; if they're so good, why can't they outperform their teams without significant help?
Email Tyler Dellow at
tyler@mc79hockey.com