As I've written here previously (and at Sportsnet today: please click the link and purchase something from the advertisers), there's something bizarre about David Clarkson's terrible, no-good season. It isn't just that his shot volume is down – that's something we should have expected, given that he was going from a great possession team to a terrible one – it's that the percentage of the 5v5 shots that he takes when he's on the ice has completely gone in the toilet.
Two key graphs from my earlier post here about it: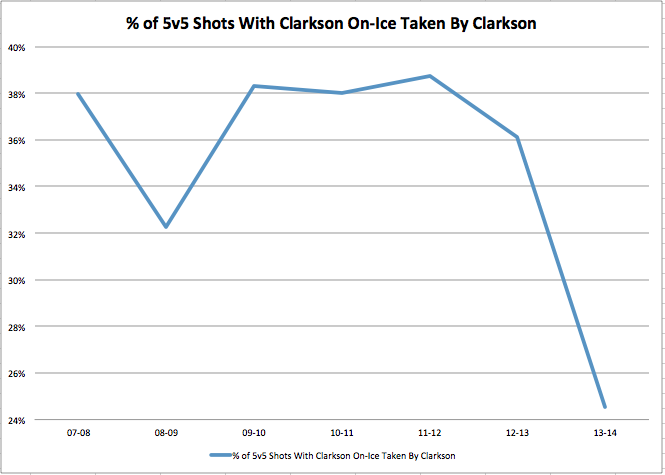 As I discussed today at Sportsnet, guys like Clarkson should not implode the way he has. Was that contract stupid? Sure. He was a terrible bet to be worth it. As ridiculous as it was though, and as much as we should be skeptical that he'd age well, he is only 29. Guys like him don't normally collapse.
It's been bugging me. I decided to go through his 2012-13 and 2013-14 seasons, watch every fourth 5v5 shot that he was on the ice for and gather some information about it – the shooter, the two "assists" on the shot, how the zone entry leading to the shot occurred and how much time passed between the zone entry and the shot. I'm not just focusing on Clarkson's shots – I'm looking at all shots taken when he's on the ice to try and understand how the offences differed in how they generate shots.
I think I've found a couple of cool things (and one very cool thing) that might help us understand why Clarkson's season was so bad.
I ended up watching 87 shots that Clarkson was on the ice for in 2012-13 and 83 from 2013-14. I had three in 2013-14 that I couldn't watch – two from the Leafs most recent game due to the 48 hour Gamecentre blackout and one from a game earlier in the year where the Gamecentre broadcast starts in the second period for some reason.
I found it kind of amusing that, in my samples, Clarkson's last year with Boring New Jersey saw the Devils generating more of their shots off of carries into the offensive zone than his season with the Exciting Rush Team Toronto Maple Leafs. The difference is even bigger in terms of more shots being generated off dump-ins for the Leafs – there's about a 64% increase in terms of the shots when he was on the ice that came off dump-ins in Toronto rather than in New Jersey.
And then there's X. I use X as a catchall for things that aren't otherwise defined. Eight shots following X events in 2012-13 and 2 in 2013-14. Keep in mind – this is just a quarter of the shots he was on the ice for so, if the sample's a fair representation of the whole, it'd be more like 32 and 8. Hmm. We'll come back to this.
Now, once I've got each zone entry with a shot labelled, it's pretty easy to compare the percentage of the shots that Clarkson got off each type of zone entry in Toronto with what he did his last year in New Jersey.
Isn't that funny how basically the percentage of the Leafs shots that Clarkson took after the puck was carried in or dumped-in is virtually identical in his final year in New Jersey and in his first year in Toronto? One year got him paid until the end of time; the other year has threatened to tarnish the memory of Wendel Clark. (Which, frankly, could use some tarnishing, but that's neither here nor there.)
I wouldn't read anything into the two 100% – sample size – but it's interesting that Clarkson takes a high percentage of the shots following X events in both 2012-13 and 2013-14. Hmm. We'll come back to this.
As I noted in the Sportsnet piece, one of the problems with Clarkson this year was that he seemed to be involved in way fewer goals – his Individual Points Percentage was way down. I speculated that he might be touching the puck less often. In doing this project, I handed out "assists" on shots to try and suss out whether Clarkson was touching the puck less often.
Those are the percentages of shots off specific zone entry types where Clarkson got an assist. I don't really think that my theory that he's touching the puck less often before a shot is taken in specific situations holds up.
Alright – so far, if we dig underneath, Clarkson looks pretty similar to last year. The Leafs might dump the puck in more often but he seems to contribute to shots once a given zone entry type has occurred as much as he did last year. But what about those X events? When I tabulated the data, I figured I must have been coding them differently or something, so I went back and looked at the X events. I pulled the the ten of them (eight in New Jersey, two in Toronto) into a video.
Do you see what's going on there? These X events are essentially shots caused by pressure. (A quick note – I don't count a defenceman flipping a puck blindly out of his own end as a dump-in). There's lots of them in New Jersey and, unsurprisingly, Clarkson got a ton of shots off them – forwards are for more likely to be taking a shot generated by a ton of pressure than defencemen, because forwards are the ones who are pressuring. If there are fewer shots generated by pressure, the share of the shots that Clarkson takes will be reduced, which would explain the two graphs at the beginning of this post.
The question then becomes: why are there so many fewer shots generated off pressure for the Leafs than there were with the Devils last year? That's beyond the scope of this post although I'd guess "coaching tactics" is the answer. I do think that this provides a more plausible explanation for Clarkson's season than "He was good and now he's completely terrible" which isn't really how hockey works.
It's going to be very, very interesting to see what the Leafs do this summer. I'm firmly of the view that, as dumb as this signing was in the long term, changing to a coach who coaches in a way that involves more pressure will redeem Clarkson. It might also help them make the playoffs.
Email Tyler Dellow at
tyler@mc79hockey.com