A confession: I like making jokes about David Clarkson's contract as much as anybody. The wrinkle: I question how fair it is to make David Clarkson jokes. Sure, a lot of it is justified. He was paid as if he's a real power forward, as opposed to a guy who had a couple of years in which pucks went in on a team that seemed perfectly set up for him. The whole thing where he basically invited the pressure of being Wendel Clark was funny. The suspension he took for jumping off the bench in a pre-season game? Hilarious. And these are the gravy years of his contract.
It's the performance that I find kind of puzzling. I expected that Clarkson would struggle to do what he did in New Jersey. New Jersey has had ridiculous 5v5 possession numbers over the years and Toronto, well, Toronto doesn't have ridiculous 5v5 possession numbers. Still, four goals and six assists in 50 games seems sort of ridiculous the other way.
One of the things that's caught my eye this year with Clarkson is the extent to which his shooting rate has completely collapsed. Here's a summary of his 5v5 performance from 2007-08 to present.
A 35% decline in shooting rate is a very unusual thing. To me, that's a far more troublesome thing than the shooting percentage, which is well within the range of things that could occur by chance alone. Clarkson was never a high percentage shooter. To the extent that he was a goal scorer, it was because he clubbed enough pucks towards the net that eventually some went in.
I thought it'd be interesting to whip up a quick graph showing the percentage of his team's 5v5 shots that Clarkson's taken over the years.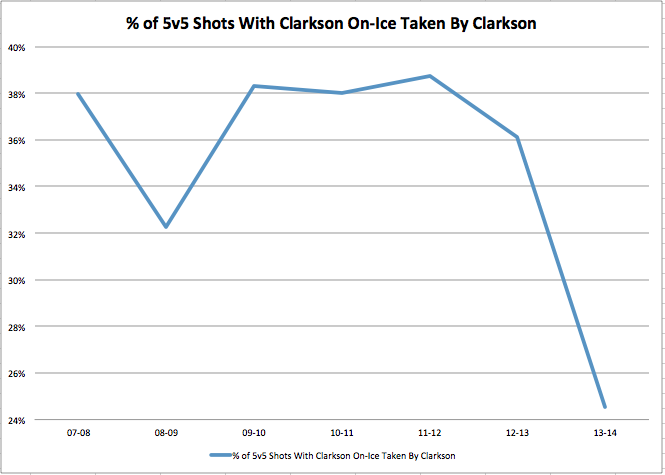 As you can see, it's actually pretty consistent from year to year right up until this year. Basically, he took between 36% and 38% of the shots in all seasons except 2008-09, in which he dipped to 32%. It was very consistent though. Then he comes to Toronto and all of a sudden he only takes 24.5% of the 5v5 shots.
Given that, I decided to see how the shot mix in Toronto this year with Clarkson on the ice at 5v5 differed from that of the Devils in 2012-13.
Huh. That's kind of interesting. Clarkson's off about 10 points from last year (I'm using slightly different data sets) but about 75% of those ten points are being picked up by the defencemen, with just a little bit of an increase for the two non-Clarkson forwards.
I'm inclined to think that there's a systems effect here that we're not seeing. Something about the Devils' system resulted in Clarkson running up big shot volumes; something about Toronto's system when he's on the ice has taken the shots that he used to be in a position to take and transferred them to the other players on the ice, mostly the defencemen. I don't know why that might be but there's an important idea illustrated here. We talk about goals and assists and shots and such as if they're a product of the player alone. They aren't. They're a product of a player's skills in the context of the system he's playing in and the players with whom he's playing.
I have a suspicion that the results that we're seeing Clarkson put this year are more a function of the changes in his environment than changes in his skills. I arrive at this conclusion because players tend not to just crater like he has. To a certain extent, he reminds me of Mikhail Grabovski, who seemed to implode when Randy Carlyle became coach, went to Washington and became the same player he was in Toronto pre-Carlyle, a really useful piece at 5v5.
On the one hand, that's kind of a positive. If his struggles are, in part, systemic, that's better than struggles that are related to being no longer any good. You can fix that making adjustments that make better use of his skills, whatever they might be. On the other hand, nobody builds systems around second/third line wingers and the Leafs have a pile of wingers who are better than him.
I don't think his struggles are necessarily his fault or entirely his fault. He might just be a really poor fit for the Maple Leafs, at least the Maple Leafs as coached by Randy Carlyle. Unfortunately for Clarkson and the Leafs, it might be a few years until that changes. At which point the physical decline probably will have kicked in. Which, all things considered, is still pretty funny.
Email Tyler Dellow at
tyler@mc79hockey.com