A hockey team needs an identity. For the Edmonton Oilers of the past decade, there's been one thing that they do better than all teams in the NHL: take bench minors.
The picture's no better if you confine yourself to the last five years.
"Don't mess with the Edmonton Oilers," the pundits say. "They'll get revenge by fouling up a line change that nullifies a power play."
* * *
Of note: Sean Monahan has been really struggling for a while now.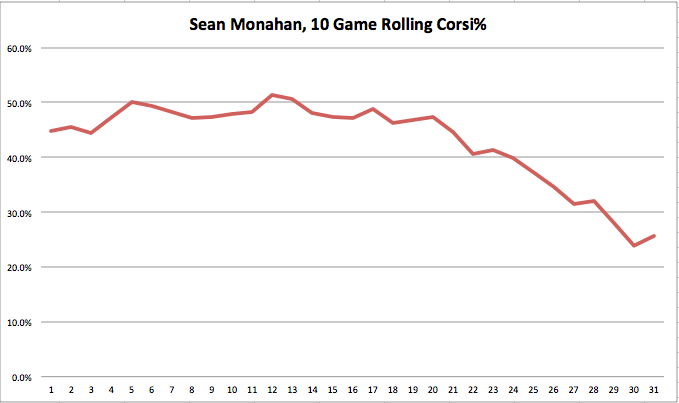 In his last ten games, the Flames have a Corsi% of 25.7%. As I've written in the past, anything below 40% is notably horrible. I didn't even contemplate a Corsi% below 30%. Calgary's got a Corsi% of 14.6% this year at 4v5 – Monahan has been closer to a shorthanded Flames team than he has been to the traditional cut-off line for "Non-NHL Player" of late.
Monahan's playing with a foot problem and isn't really a useful NHL player at this point in his career. None of this falls on him but you kind of wonder why the Flames have been tossing him over the boards to get murdered. Surely Jerred Smithson or someone is available to fill a spot while Monahan heals properly.
Email Tyler Dellow at
tyler@mc79hockey.com