Twitter's Andy Levang pointed out something interesting about the structure of David Clarkson's contract with the Toronto Maple Leafs, which is up now on Cap Geek. It contains an awful lot of signing bonus money.
The other interesting thing about the deal is how the really big money has been pushed back to years four and five. Now, most things happen for a reason. Why might the Clarkson contract be structured like this? I think it's pretty easy to guess why the big money is pushed back in the deal. I suspect that Clarkson and his agent want to limit the extent to which he pays into escrow and by holding off a few years on the $7MM years, there's time for the NHL's salary structure to sort of adjust to the new world and, hopefully, get the size of the escrow payments kept by the owners down to a more reasonable level.
Clarkson's not the only guy who signed a big money deal as a free agent who's holding off a bit on cashing in. Mike Smith's new deal has a $5.67MM cap hit; he's only drawing a $4MM salary next year. Mike Ribeiro is doing something similar. Nathan Horton is taking less in his first year. So is Valteri Filppula. Those guys signed with less wealthy teams, so it's maybe in the team's interest as well to push off the bill for the signing as well.
Nobody's pushed more money further back in their contract than Clarkson though. There's a risk with doing that. See, an NHL contract isn't really a promise to employ you for however many years it says at however many dollars. It's really a series of one year options that the team activates every year when it doesn't buy you out. If you've got two years on your deal at $3MM per, the team is obliged to pay you $1MM a year for four years. If it would like you to play for them, it doesn't pay you out and it essentially activates one of those options. Your deal is now a one year deal for $3MM plus an obligation to pay you $1MM a year for two years that will convert into a requirement that you play for the team for $3MM in year two if you aren't bought out.
If you think it through that way, you see that players with marginal track records who defer the big money in their long term contracts run a heck of a risk – they run the risk that the GM who signed them (or, more realistically, his replacement) will come to the conclusion that they'd be better off with the extra salary cap space that they'd have if they bought you out. If you've deferred taking a bunch of money, you run the risk that you'll be bought out before it comes due, which would cost you a pile and, if you're being bought out, you probably don't have good options to make it up.
How can you get around that? Well, there was an interesting note in the Vinny Lecavalier buyout. It turned out that his signing bonus was guaranteed. He has $3MM in signing bonuses owed in 2013-14 and 2014-15 and another $2MM in 2015-16. As we learned, he gets 100% of that money (subject to escrow). He then gets 2/3 of the salary that was remaining on his contract when he was bought out. This, according to Cap Geek, is negotiable:
Signing bonuses can affect buyout amounts depending on the language of the contract. Vincent Lecavalier's 2009-2020 contract, for example, specified "non-refundable" signing bonuses, meaning he received them in addition to his 2013 compliance buyout payments. Other contracts specify that the signing bonuses are contingent upon the player fulfilling the contract.
Let's assume that all of Clarkson's bonuses are guaranteed (I've asked the CapGeek guy and he doesn't know) – this makes a certain amount of sense to me because if he was my client and was a guy who didn't have a long track record of being what he's being paid to be, I'd be worried that he wasn't really that and might ultimately end up being bought out. It's been rumoured that the Oilers had offered Clarkson more money than he ended up taking in Toronto. For the sake of discussion, assume that the Oilers were willing to pay him a flat $6MM a year for 7 years, with no signing bonus. Now let's look at how much money Clarkson would make if he's bought out after each year of his deal.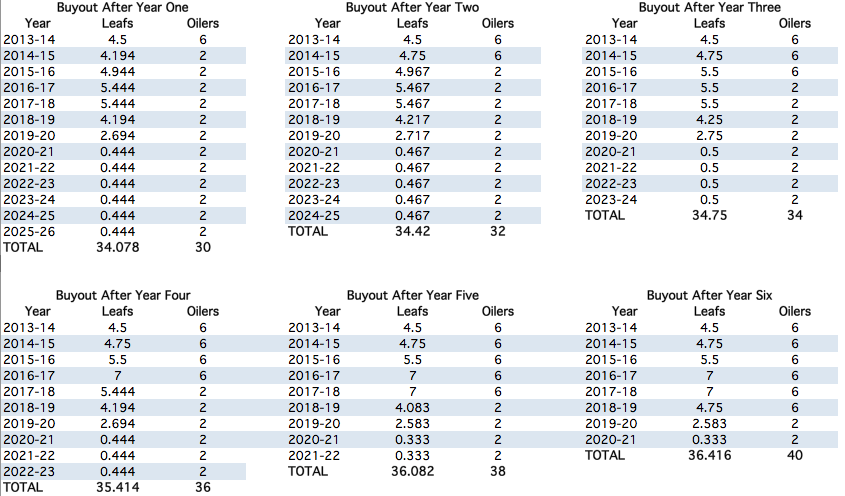 You can see that the Toronto deal nets him more than the hypothetical Edmonton deal if he's bought out in the first three years of it – ie. if he's a disastrous bust who needs to be moved along. If he plays out the deal, he would have made more in Edmonton but it seems to me that there's more certainty with the Toronto offer for a guy with a limited track record.
As you'd expect, this has cap consequences. We know from Lecavalier's contract that you have to pay a guaranteed signing bonus in the year it's due and that you get hit with the cap consequences then. These numbers won't be the precise cap hit but, even if Clarkson was terrible and bought out, it seems likely that the Leafs would be facing big cap hits for him because the bonus amounts are so high.
All of which is to say that this appears to be a uniquely strong commitment by a team to a player. The Leafs are richer than God and the money's not really an issue, as the absurd Mikhail Grabovski buyout illustrates. Cap hits sting though and even with an $80-$90MM cap, taking a $4MM+ cap charge on a guy you bought out is steep. It's a heck of a large bet to make on a guy without a big track record.
Email Tyler Dellow at
tyler@mc79hockey.com