This is part of a series looking for reasons for the Oilers Corsi% collapse in 2012-13 by examining things on a shift-by-shift basis. Part 1 can be found here. Part 2 can be found here.
I'm going to move now from discussing Shot Attempts Allowed (SAA) to discussing Shot Attempts For (SAF). The observant and statistically literate reader will note that these are the constituent elements of Corsi – by Shot Attempts" I'm referring to shots, blocks and misses. In this post, I'm going to look into how the Oilers defencemen changed in terms of SAF on a shift-by-shift basis in 2011-12 and 2012-13.
In 2012, 35 pitchers pitched enough innings to qualify for the American League ERA crown. The most likely to walk a batter was the Toronto Blue Jays' Ricky Romero, who walked 12.7% of the batters that he faced. At the other end of the spectrum, Scott Diamond of the Minnesota Twins walked just 4.3% of the batters that he faced. Amongst hitters who qualified for the batting title, Adam Dunn walked in 16.9% of his plate appearances and Alexei Ramirez walked in just 2.6% of his plate appearances. This is the historical norm: hitters at the extremes in terms of walk more frequently and less frequently than pitchers at the edge of walk rate.
Bill James had a theory about this which has always struck me as pretty good. His theory was that the wider spread for hitters meant that walking was more within the control of the batter than within the control of the pitcher. Plate discipline and ability to throw strikes are both skills; it's just that the spread of talent on plate discipline is wider than that of the ability to throw strikes. Keep that idea in mind as we delve into the SAF numbers for defencemen. I'll start with the percentage of shifts on which Oilers defencemen were on the ice for an SAF. First, defencemen who were on the team in 2011-12 and 2012-13.
The graph is sorted from left to right by increase in 2012-13 from 2011-12. You'll notice that this is a very tight spread – in 2011-12, the Oilers defencemen who played at least 100 shifts saw an SAF on a given shift between 36.1% and 42.8% of the time. This year was even tighter – it ranged between 38% and 41.2%. I'm not going to get into the forwards in this post, but I can tell you that the range with them was much broader – from 30.8% to 49.8% this year.
Intuitively, that makes a certain amount of sense. It also suggests to me that, on the Oilers at least, the forwards are the ones who drive the SAF volume, not the defencemen. I suspect that this is a principle of more general application, subject to some exceptions. A guy like Erik Karlsson, for example, I suspect that he helps drive SAF numbers. Take a look at the fifteen Senators forwards who've played at least 240 minutes with him over the past two seasons.
There looks to be a significant impact. Like I say, I doubt that that's the norm but I bet if I ran this analysis for the Ottawa Senators, things would look a bit different. Here are the guys who played in 2011-12 or 2012-13 but not both.
The Oilers leader in shifts with at least one SAF this year was, unsurprisingly, Justin Schultz, with the Oilers posting at least one SAF during 41.2% of his shifts. We might be seeing some of his influence on Nick Schultz's numbers – Nick isn't exactly known as an offensive player but he posted the second best number here for the Oilers and was up significantly over his number from last year.
Let's move on to looking at multi-SAF shifts as a percentage of all shifts on which there was an SAF. Again, I'm starting with the guys who were on the team in 2011-12 and 2012-13. (A word about Peckham that I assume is obvious but perhaps isn't: he barely played in 2012-13. I'm including him as a returnee but he played only 91 5v5 shifts so his presence is more for the sake of a way of splitting up the D than a sign I'm hoping we can learn anything from looking at him other than if you're a marginal performer, don't come into camp out of shape.)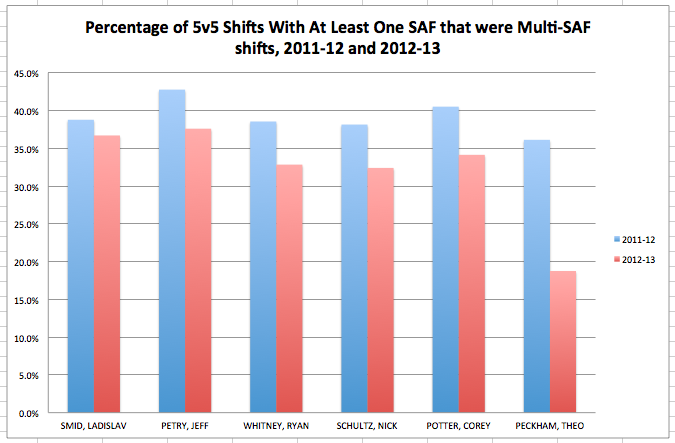 Again, we're talking about pretty tight ranges. In 2011-12, the range was from 36.1% to 42.8%. This year (excluding Peckham), it was from 32.4% to 37.7%. I'm not going to go into the forwards yet but the spread for them was much bigger last year (21.7% to 38.5%) and this year (23.6% to 39%). For me, when I see spreads like that, I'm inclined to think that the forwards are exerting far more control over these numbers than are the defencemen. When we use something like Corsi%, these things are baked into it; pulling everything apart and spreading it out this way lets us get a better sense of this.
Defencemen who didn't play for the Oilers in both 2011-12 and 2012-13:
You will note that the Oilers were more likely to turn a shift with a SAF into a multi-SAF shift with Mark Fistric on the ice in 2012-13 than they were with Justin Schultz. If you asked me to guess, before I did this work, whether I thought defencemen would have more control over whether there was at least one SAF on a shift or whether a shift was a multi-SAF shift, I would have guessed the former. I would think that whether or not a shift becomes a multi-SAF shift turns more on the ability of the forwards to retain possession and generate multiple shots than it does the ability of the defencemen at the blue line. On the other side of the coin, a defenceman who can facilitate the movement of the puck up the ice seem to me to be a guy who's more likely to have more shifts with an SAF than a guy who can't. I'm spitballing here but, logically, there seems to me to be more of a scope for a defenceman to turn a non-SAF shift into one with at least a single SAF than there is for him to move it from a shift with one SAF to a multi-SAF shift.
Finally, the percentage of all 5v5 shifts that were multi-SAF shifts. As explained in previous posts, I prefer the SAF/no-SAF and multi-SAF/SAF measures because I think that they do a better job of separating out what we're looking for but I seem to have developed a format here, so I'll stick with it.
OK. What does all of this tell us? In some ways, this is the least interesting post in this series. (Trust me, the one on forwards and SAF-shifts is nuts.) On the other hand, it kind of suggests what you'd believe to be true if you watch a lot of hockey – the impact of most defencemen on the volume of SAF shifts and, particularly, the volume of multi-SAF shifts may not be that high and almost certainly isn't near the level of importance of forwards in the creation of SAF and multi-SAF shifts. There's some value in having data confirm things that you already believed going in – it should give you some more confidence when you hit a surprising finding that you're on to something.
Up next: Forwards and SAF and amazing facts.
Email Tyler Dellow at
tyler@mc79hockey.com