One of the things I hope to learn before I die is just how the Edmonton media identifies Oiler related topics to write about. Take Ryan Whitney. Now, Jim Matheson is a sort of harmlessly oblivious guy, but after the Oilers-Avalanche game, he kind of had a bead on Ryan Whitney for some reason. He wasn't alone – in his column about Whitney, he mentioned that someone (presumably not him) had asked Krueger about Whitney and gotten nothing in reply.
Whitney, of course, sat out against Vancouver before coming back in against Dallas and ending up as the evening's goat as Jaromir Jagr cut him open to score the game's winning goal. The harsh reviews poured in:
That line from Jones about Whitney not showing up is, honestly, a little bit cheap. "Guy has series of foot problems, guy has terrible mobility" isn't exactly the same as "Guy tweets pictures of pan full of sausage and potatoes, guy shows up at training camp too fat to play," to pick one entirely hypothetical and made up thing.
On the one hand, this is an obvious observation to make. On the other, Whitney was an immobile horror show on defence last year, the media was well aware of it and they spent their time going after Ales Hemsky instead. Hemsky had a contract that expired and there was some reason to think he was on his way out; Whitney didn't.
For all I know, it's a coincidence that Whitney's taken way more of a kicking from the Edmonton media this week than he ever taken. Having watched this team for fifteen years or so though, it strikes me as an amazing coincidence that the media kind of moves in packs with these people. A pack goes after Ryan Smyth in 2007. A pack goes after Ales Hemsky. A pack goes after Ryan Whitney. Given that the complaints of the pack, at least with respect to Whitney, have been valid and obvious for a year, you wonder who leads the pack and decides when it's time to attack?
Alright, that said, I was interested in going back and taking a look at Whitney's game in Colorado, just because it was a bit of a turning point for him in a bad way. I tried to kind of look for stuff that might have caught the coaches eyes in terms of him not playing well and JPGd it all.
Whitney's first shift – notice that he's the guy playing the off side. I feel that this is something worth mentioning. When Mark Fistric came to town, Tambo was all "He can play both sides." Instead you've got Ryan Whitney, who hasn't played a ton on the other side, being the guy stuck doing the shifting. This has, as I'll show, had some small impact on him. If nothing else, if you've got a guy who's struggling, putting him in an awkward position seems unwise.
Tough to see but Whitney's exchanged passes with Fistric here. Fistric didn't really move with the forechecker to give Whitney an option and then missed the pass, which hit his skate and let the Avalanche enjoy an extended period in the defensive zone. This isn't really on Whitney.
This is going to become a bit of a running theme with Whitney in this game – turnovers, or an inability to get the puck out of the corner. This is the first instance where being on the wrong side costs him, I think. Dubnyk has just knocked the puck around the net to him, with a forechecker in pursuit from the other side of the ice.
If Whitney's a right handed shooter, that puck's easy to pick up and clear on his forehand. Instead, he's taking the puck while facing back behind the net, gets knocked off the puck and the Avalanche recover it.
Part of the problem for a skill guy in playing on the bottom pairing is the lack of other skill guys around you. Here's Whitney, on the right side, going cross-ice to Mark Fistric, out near the blueline. It's a good pass but…
…Fistric somehow misses it.
This next set illustrates what I think is a more serious problem with Whitney, in terms of his lack of mobility. He's on the right side, backing in against the Avalanche forward, who pulls up:
Look how big the gap between Whitney and the Avalanche guy gets:
Whitney just kind of ends up in no-mans land. The pass is made kind of in front of him, to an Avalanche who is tied up with Mark Fistric. He gets loose and the Avalanche get a decent chance:
The play here is coming down the ice to from Whitney's left. The puck is being passed over towards 44.
This is another mobility thing. Whitney's successfully knocked the puck over towards the boards. He's now in a footrace in which he's got a decent head start, albeit with no momentum:
He doesn't even end up getting close to the puck:
It wasn't all bad. The guy can make a killer breakout pass. Here he is finding Eberle, who gains the blue line with ease: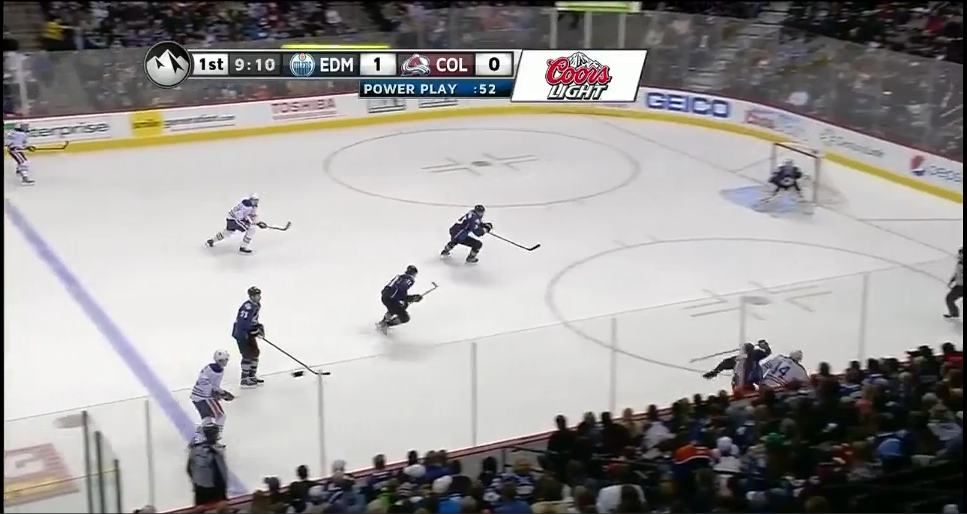 This is another kind of ongoing problem with Whitney – dealing with guys who have the puck on the boards. He's the defenceman just below the goal line, to Dubnyk's right here: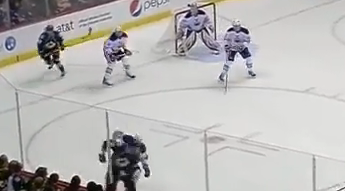 Basically, Whitney's miles off the play and not really able to get close until Fistric finally steps in and pastes the guy, separating him from the puck. I'm not a hitting fetishist – it's a way of retrieving the puck, not an end in and of itself – but Whitney never seems like he's able to get into position to separate the Avalanche player from the puck as things go back and forth here.
Here's an example of the problems with playing on the off side I was talking about. Three Avalanche along the boards and Whitney's stuck trying to keep it in on his backhand:
A predictable turnover leads to things coming up the ice: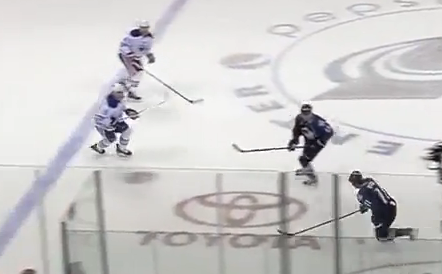 Basically, what you see in that sequence is two Avs coming over to Whitney's side, the puck being chipped past him, Whitney being unable to turn in time to keep up, the puck being retrieved and passed back past a Whitney who hasn't been able to catch up and then ending up on a stick in the slot, where an astute defensive play from a forward was the only thing that prevented a scoring chance.
Beaten behind the net again, second period edition:
Some days, nothing goes right. Here's Whitney blasting up the ice, head up looking for a pass:
Catching his foot on the linesman:
Careening into the boards and losing possession:
Hoping that someone else will get back and cover for him:
He sure can pass the puck though.
This is the goal against on which Whitney kind of got posterized. Note that Hemsky never really had an angle on the puck carrier.
I thought at the time that Whitney took too much heat for this but he doesn't really play the 2 on 1 at all.
If you need a reminder that the hockey gods are fickle, this picture is decent I think – this is at the Avalanche blue line immediately before the Avalanche score. If the Avalanche player beats Hemsky to the puck, he's most likely just going to whack it off the boards to try and prevent Hemsky from getting it. Instead, Hemsky knocks it past him, where it's taken by another Av and Hemsky's never able to get position and the Avs score. Those whom the gods would destroy, they first let win a puck race.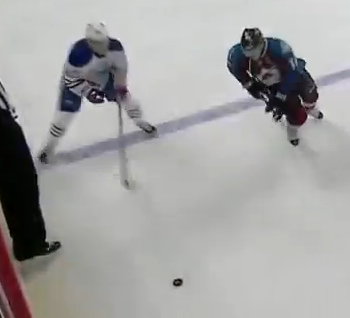 Race for the puck, head start blown, puck not cleared, zzzz:
Race for the puck, head start blown, puck not cleared, zzzz:
A one on one, results in acres of room, which lets the pass go through towards the net with ease. Fortunately, nobody was there:
Like I said, I'm not particularly an advocate of hitting for its own sake but I do wonder why Whitney didn't bury the guy here:
And that's the game. I didn't think it was a noticeably more terrible game for him than usual but maybe I've been numbed a little bit. The sequence of photos sets out what I think is the real problem in his game – guys can quickly move the puck around him in his own end. He's not a rockhead player but he's unable to get close enough to players to close them down.
Of course, you might wonder why Whitney's deficiencies are only now becoming a thing when they were there for all the world to see last year and barely received any comment. To me, the real story here isn't "RYAN WHITNEY TERRIBLE" – that's old news. The real story is "OILERS MANAGEMENT BETS ON LONGSHOT; DOESN'T PAN OUT." I suppose that's old news too but it's still going to be a problem after June 30, which Ryan Whitney won't be.
Email Tyler Dellow at
tyler@mc79hockey.com