During last year's Stanley Cup Finals, one of CBC's narratives was "Ilya Kovalchuk is a lazy Russian." Jim Hughson kind of had a running thing going, like Banky in Mallrats with the kid on the escalator, about Kovalchuk's apparent effort level. Now, this was kind of dumb because Kovalchuk was reportedly playing with a bad back but CBC was just whipping him. In Game 5, Kovalchuk came slowly up the ice as Justin Williams scored to tie the game for LA. Glenn Healy had this to say:
"How about the effort level of Kovalchuk on the back check? Or, maybe redefine that as the lack of effort level of Kovalchuk. And that's what opened up the speed, that's what backed up the D and that's allowed Williams to be smart enough to cut to the middle."
ZING!
Never mind that the puck had come out of the side of the ice that Kovalchuk wasn't on or that Travis Zajac hadn't busted back either – Kovalchuk was the guy who Healy hammered.
Later on in the period though, we saw that sometimes not busting back into the zone pays off. You can't see Kovalchuk in this (admittedly sort of abstract) shot. He's lollygagging back. It's a 3 on 3 though in the Devils' end.
The Devils clear the puck up the boards and, because he hadn't been engaged in a showy North American display of puritanism, Kovalchuk was in a nice place to pick it up with time to move it on.
Kovalchuk makes the pass to Parise and gets hit, taking him out of the play. The Devils d-man (number 2) sees this and, in a display of Dutch-influenced Total Hockey, scoots up the ice and takes his spot on the rush.
The Devils get a good scoring chance out of the play – note that there are three Devils in deep and none of them are Kovalchuk, who has covered for the pinching defenceman.
Kovalchuk finally jumps into the offensive zone, as Marek Zidlicky resumes his defensive posture. What does Jim Hughson say about this? "Kovalchuk didn't hustle enough to get to the puck!"
I thought of this last night when the Oilers scored their first goal against San Jose. Nail Yakupov had the puck and crossed the blue line. Lots of Sharks were back in position.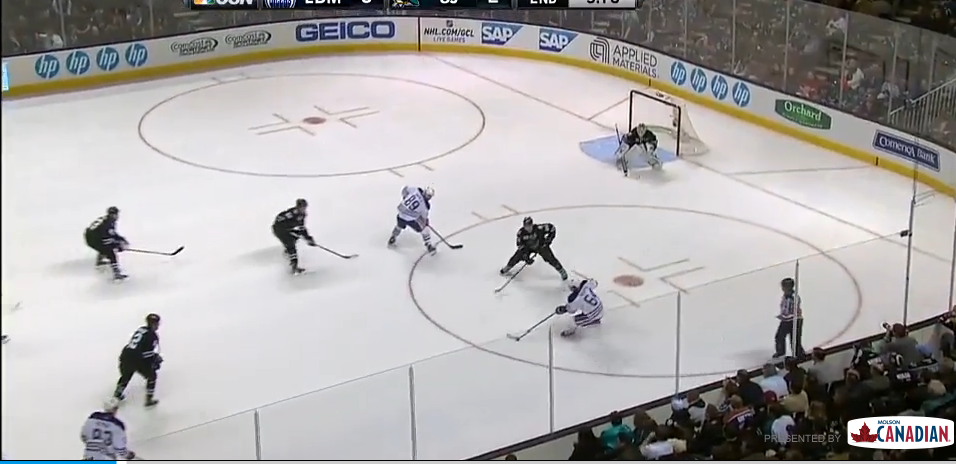 The five Sharks were back pretty quickly and took away the centre of the ice.
Three Oilers and five Sharks converge on the front of the net. But WHERE is Nail going with the puck?
Oh.
Huh.
There's an English football manager, guy named Sam Allardyce, who's famous for a couple of things, one of which is breaking down corner kicks obsessively, determining the area to which the ball is most likely to be cleared and stationing a guy there to take position. I assume that at least some coaches in the NHL have done this sort of analysis, although I doubt anywhere close to all of them or all teams have. To me, there's an obvious trade off in having all three of your forwards come back as hard as they can on the rush, in that while they can add defensive value by putting pressure on the puck carrier or filling up space in the area around the net, you lose their presence between the opposing forwards and defencemen and the ability to turn a puck up ice quickly with numbers. Also, you open yourself up to trailers, as the Sharks did last night.
To me, this is a tactical question, not a moral one and I'd be interested in a tactical answer. It'd be an easy enough thing for some team that was interested to come up with a solid answer – there's no reason you couldn't build a factory in some low wage jurisdiction and employ a hundred people for pennies an hour, breaking down hockey games and tracking the results when the wingers come back hard versus when they don't. For all I know, the Sharks did the tactically correct thing there. The point is though, that I don't know the answer. I doubt that Glenn Healy or Jim Hughson do either. Given that that's the case, I don't know why they persist in talking about this issue in moral terms, as a question of hard work versus lazy Europeans (and it's a tag that gets applied to Ales Hemsky too, amongst others) rather than as a tactical unknown.
Email Tyler Dellow at
tyler@mc79hockey.com