At least until we get a hang of how Ralph Krueger handles his bench, I'm going to try and run posts before the Oilers play each team home and away, to get a sense of how the lines were matched last year and to provide a sense of how the roles are changing under Krueger. The tables below illustrate how the Oilers most common lines and defence pairings matched up to the most common lines and defence pairings of the opposition in their home or road games last year, whichever is applicable.
The data is presented as a percentage of expected ice time, assuming that each player is expected to play face opposing players in the same proportion as their proportion of the ES ice time. If, for example, Shawn Horcoff played 10 minutes at ES against an opposition that played L1 for 15 minutes, L2 for 10 minutes, L3 for 10 minutes and L4 for 5 minutes, in the absence of line matching, we would expect him to play 37.5% of his time against L1, 25% against L2, 25% against L3 and 12.5% against L4. I would then divide Horcoff's actual percentage of time against those lines to generate the tables. So, for example, if Horcoff actually played 50% of his time against L1, I would divide 50%/37.5%, which produces 133%. The further that number is from 100%, the more extreme the line matching has been.
(The tables from last year are at the bottom of the post.)
The Oilers of my late teens and early twenties had a knack for finding defencemen in unusual places. They found Jason Smith buried behind a bunch of guys in Toronto. They found Steve Staios buried in his own zone with a bunch of terrible players in Atlanta. They found an undrafted Marc-Andre Bergeron in Shawinigan. That's basically half the defence from the 2006 Stanley Cup finals team, acquired for a second and fourth round draft pick.
In 2006, the Oilers traded a seventh round pick for Jan Hejda, a European defenceman in the Buffalo system. Hejda earned a place in the Oilers lineup by the end of the 2006-07 season. Then in the summer of 2007, Kevin Lowe had some money to spend. The result was this:
"What happened was, all of a sudden, we got a lot of defencemen. We traded for Grebeshkov. We signed (Dick) Tarnstrom. We traded for Pitkanen. We signed (Sheldon) Souray. Then, I'm thinking, 'Holy mackerel, we've got a lot of guys here.'"
Holy mackerel! That was probably connected to this:
Hejda said the Oilers were interested in re-signing him last summer, but Oilers GM Kevin Lowe asked the Czech defender to wait a couple of weeks because he had some things in the works and had too many defencemen.

"Then Scott called and said he had exactly the same contract as the Oilers were thinking of and gave me two hours to make a decision. I took five," said Hejda, who played alongside Jason Smith until separating his shoulder last year.
Grebeshkov is a KHL regular. Tarnstrom left the NHL after the 2007-08 season. Souray was bought out. Joni Pitkanen was traded for Erik Cole who was traded with a fifth round pick for Patrick O'Suillvan and a second round pick which was moved for Ales Kotalik. Kotalik left as UFA after doing nothing and O'Sullivan was traded for Jim Vandermeer, which was a financially better move than buying him out. Vandermeer left after one year.
Hejda's earned $20MM worth of contracts since leaving Edmonton. The Oilers have been short top four defencemen the entire time. Which brings me to the Colorado-Edmonton line matching.
*Hejda and Ryan O'Byrne were matched up against an offensive line for the Oilers in each of the three Oilers/Avs games in Edmonton last year. Eberle-Gagner-RNH, Eberle-Cornet-Gagner and Hall-Gagner-Eberle all saw matchups with that pairing.
*The Avs' first line last year appeared to be O'Reilly/Landeskog/Hejduk. O'Reilly is, of course, in the midst of a contract dispute with Colorado and won't be available for the game. The Oilers matched that line with Horcoff/Hemsky/Smyth and Horcoff/Hemsky/Hall – the third game of the year, which Hejduk didn't play, saw the line matched against Hall/Eberle/Gagner.
*The line matching in the third Colorado/Edmonton game last year was markedly different than in the previous two. In addition to the shift from the Horcoff/Hemsky matchup with the O'Reilly/Landeskog line, the Oilers swapped defensive pairings too – Smid and Petry, who had been matched with that line pretty aggressively in the first two games, hardly played against them in the third game. Instead, Ryan Whitney and Tom Gilbert went up against them.
*The Oilers outchanced Colorado at ES 20-14 the first time they played in Edmonton and lost the chance battle 12-16 in the second game, with Whitney and Potter getting destroyed 2-7 and 1-7. Things got worse in the third game, with Edmonton getting outchanced 8-12 and Whitney/Gilbert getting outchanced 2-7 and 1-7 respectively. It is hard to understand why Whitney was promoted in terms of the difficulty of his matchup, after getting eaten alive by a softer matchup eight games earlier.
*Horcoff/Hemsky/Pajaarvi really didn't work in that third game. They got the matchup with Colorado's third line and were unable to do anything with it.
*The comments from Dennis' chance thread for the Colorado game are interesting. This from dave:
mmm dont think 6-77 is working …..and yet previous game they killed it – must be the match ups …
The Whitney-Gilbert pairing did in fact light things up against Toronto in the previous game, to the tune of 13-3 and 14-5 respectively. They weren't getting an easy matchup though – they were playing against Mikhail Grabovski's line. The Oilers were matching Horcoff/Pajaarvi/Hemsky against Grabovski though and that seems to have helped.
*One other chance note from that third game with Colorado: Eberle/Gagner/Hall/Gilbert/Whitney got absolutely crucified chancewise by the Landeskog/O'Reilly line: 5-1. While it's a good thing that O'Reilly isn't available tonight for Colorado, not seeing how the Oilers' young line handled itself against them, assuming that matchup, is a shame. I assume that Ryan Whitney would be unlikely to see the ice with them.
*Likely lines tonight, according to Copper And Blue:
RNH-Hall-Eberle
Gagner-Yakupov-Hemsky
Horcoff-Smyth-Petrell
Belanger-Pajaarvi-Hartikainen
Smid-Petry
Schultz2
Whitney-Potter
Duchene-Landeskog-Parenteau
Statsny-McGinn-Jones
Mitchell-Kobasew-Hejduk
Olver-McLeod-Bordeleau
Johnson-Wilson
O'Byrne-Hejda
Zanon-Barrie
*Man, Colorado sure looks like a thin team on the wings.
*If the game's close, I'd guess we see a lot of RNH v. Duchene, Horcoff v. Stastny and Gagner v. Mitchell, with the Avs trying to match the Johnson pairing against RNH and the Hejda pairing against Gagner. It appears as if the Johnson pairing might have moved past the Hejda pairing as the matchup pair in Colorado.
Edmonton 4 Colorado 1 – December 9, 2011
(Right click and "View Image" to enlarge)
Edmonton 3 Colorado 2 – January 31, 2012
Colorado 3 Edmonton 1 – February 17, 2012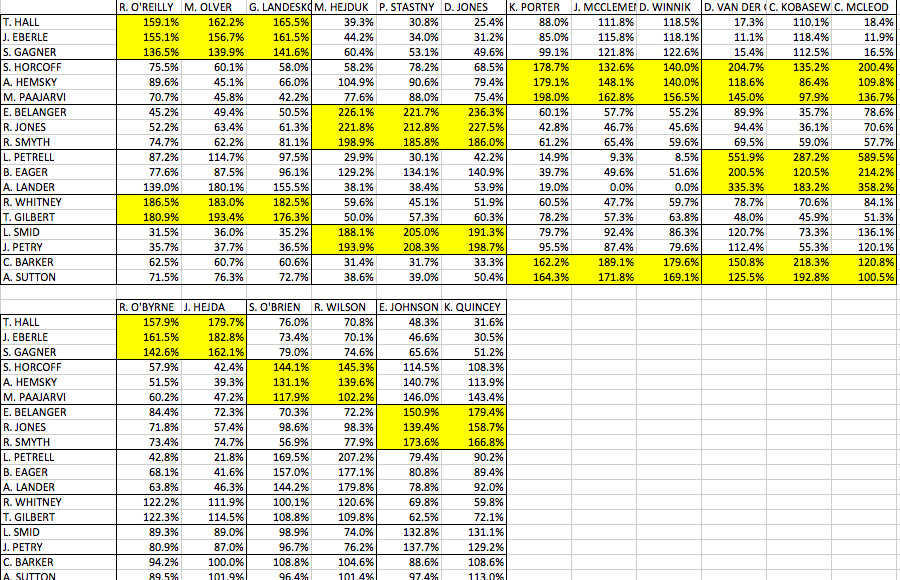 Email Tyler Dellow at
tyler@mc79hockey.com