Twitter's @kinger999 asked me about the possibility that Jordan Eberle has a high shooting percentage because he doesn't take shots from far away in the same way that other players do. Eberle himself has given this theory an endorsement, telling Jason Gregor:
I think for one, I've really worked on my shot. I try not to waste a chance; you know if I'm in the slot I'm going to bury it. Like you said, I'm not a guy to come down the wing and fire a puck on net. I more so want be the guy that beats the defensive line, tries to make a play to a guy or turn back and try to create more out of it. The chances I usually get, I usually try to slip in to places where it is a lot easier to score. Something about my shot too, I think goalies usually have trouble with it. I think I shoot off the toe a little bit. I ask goalies, 'What's the difference between my shot and someone else's?' It just comes off differently. So, I take a lot of pride on working on it. If I get a chance, I want to score. It pisses me off when I don't.
There's a fine site, Super Shot Search, that creates maps of the shots that players take, based on data gathered by the NHL. As you can see if you look up a defenceman on the site, it's not perfect. It looks to me like either the maker of the site or (more likely, given the NHL's involvement), the creator of the data sometimes "flips sides" and fails to employ a consistent method in terms of which side of the ice is which.
That's just a "mirror" error though – if a guy shoots a puck from a good spot on the ice, it will still be a good spot on the ice if the image is flipped, what with symmetry. With that said, here's a shot map of Jordan Eberle at ES in 2010-11, when he shot 9.7% at ES…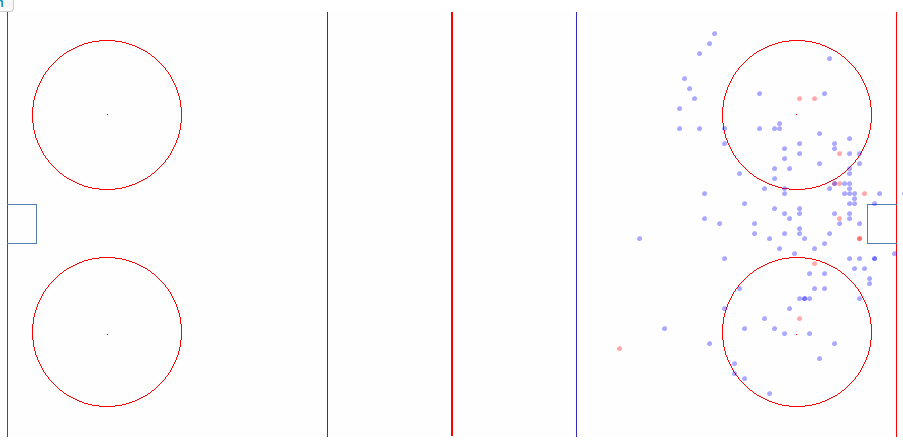 and here's one from 2011-12, when Jordan Eberle shot 18.8% at ES.
If you can see some sort of a difference that would result in his shooting percentage doubling, you're a better man than I. Or, more likely, you're seeing things.
Now, this isn't to say that Eberle doesn't actually tend to take higher percentage shots than other players. Here, for example, is what Brian Rolston's shot chart at ES looks like in 2011-12. You can see a significant difference.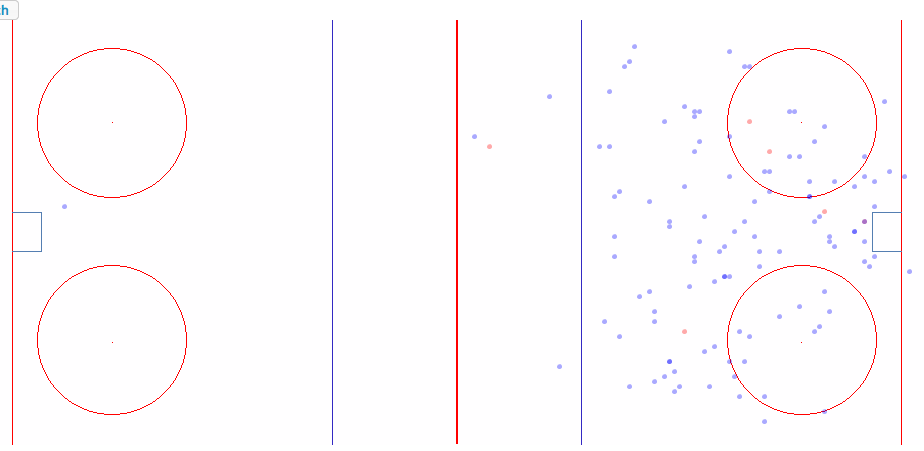 I don't know of anyone who doesn't think that Jordan Eberle is, in the long run, likely to be something better than a 9% shooter at ES. When I did my own estimate of his true offensive talent, I just assumed that he'd have the best on-ice S% of anyone outside Crosby (implicit in that is that he's going make far more shots than average himself) when I came up with 50-60 points. I've no doubt that part of the reason for that is that he doesn't tend to bomb shots from anywhere.
The thing is though, that's not a new development. And, while it might be a reason that Eberle shoots 9.7% or 10%, it's not really an explanation for reeling off an 18.8% season. So…nothing new to see here.
Email Tyler Dellow at
tyler@mc79hockey.com