The legendary Bukkake Crew, the hardest firm in all of Germany.
I went to eight soccer games in Europe over the past two weeks, which did nothing but further convince me of the superiority of the European soccer structure to that of North American professional sport. Some of this is obvious: for example, in Europe, soccer teams play full seasons every season, as opposed to engaging in a cycle of lockouts and strikes. As a person who prefers watching sports to watching hopelessly conflicted journalists engage in increasingly desperate attempts to hide the fact that they are utterly in the bag for one side or the other, I like this. Not all of the advantages of the European system are so obvious though and, as there's no hockey to write about, a stab at explaining the more subtle advantages of their setup seems to be in order.
(I really need to set up those Grantland-style sidenotes so that I can move the extraneous stuff out of the main body. Not all European sports use a system of promotion/relegation. I believe English rugby doesn't. It's well established in soccer. The concept does extend beyond soccer though: the Elitserien, for example, sees the two lowest placed teams enter a post-season tournament with the four highest ranked teams from HockeyAllsvenskan for the right to play in Elitserien the following season.)
I saw eight games while in Europe that I'm going to reference while doing this and stood outside a stadium in pouring rain for an hour before a ninth, before finally concluding that finding a ticket would be impossible and that I should repair to a bar to watch the game. They were as follows:
St. Pauli 3 Dynamo Dresden 2 – 2.Bundesliga
Schalke 04 3 SV Sandhausen 0 – DFB-Pokal
Fortuna Dusseldorf 1 Borussia Monchengladbach 0 – DFB-Pokal
Borussia Dortmund 0 Vfb Stuttgart 0 – Bundesliga
NAC Breda 2 RKC Waalwijk 1 – Eredivisie
Sheffield Wednesday 0 Blackpool 2 – nPower Championship
Celtic 2 Barcelona 1 – Champions League
Blackpool 2 Bolton 2 – nPower Championship
Manchester City 2 Tottenham Hotspur 1 – Premier League
Probably easy to guess which game I couldn't get beg a ticket for.
Nine games, seven different competitions. For those unfamiliar with the intricacies of European soccer, four of the nine games that I saw involved teams that aren't in the top league in their country: St. Pauli, Dynamo Dresden, SV Sandhausen, Sheffield Wednesday, Blackpool and Bolton all play in the second divisions in their respective countries. I'm as much of a hockey fan as I am a soccer fan and yet it's impossible for me to imagine doing something similar with hockey. In the past few years, I've gone to watch the Marlies a few times: all involved either a) a friend playing for them, b) the Marlies playing the Oilers' farm club or c) the Marlies playing in an outdoor game in Hamilton.
Judging by the attendance numbers for AHL hockey, I'm not alone in not being particularly interested in the second tier product. The Marlies, who were good enough to go to the AHL final last year, drew 5,280 per game in 2011-12. OKC drew 3,684. Hamilton drew 4,848. Abbotsford, to pull in another Canadian team, drew 3,545. St. John's drew 6,297.
Contrast that with the attendance numbers for the second tier soccer teams I saw on this trip. St. Pauli drew 23,219 in 2011-12. Dynamo Dresden drew 26,215. SV Sandhausen drew only 2,611 per game but there probably needs to be a caveat on this, as they were playing in the third division and Sandhausen has a population of 14,556. Blackpool drew 12,747 per game. Sheffield Wednesday, in the third division, drew 21,308 per game. Bolton were relegated from the Premier League last season, but have drawn 17,539 per game so far in 2012-13.
It's worth noting that the European soccer teams I'm referencing face much stiffer competition in terms of the availability of first division soccer than do most of the AHL teams I've referenced. St. Pauli play in Hamburg, which is home to Bundesliga team Hamburger SV. Dresden is fairly isolated. SV Sandhausen have TSG 1899 Hoffenheim, FSV Mainz 05, Eintracht Frankfurt and Vfb Stuttgart all within an hour by train. Blackpool and Bolton are both within an hour of Manchester United, Manchester City, Liverpool, Everton and Wigan. Sheffield Wednesday have Manchester United, Manchester City and Stoke within about an hour by train. Sheffield Wednesday also shares Sheffield with Sheffield United, who drew 18,698 last year in the third division.
England has 92 teams in its top four divisions, all of which are fully professional. Two of those teams are Welsh; exclude them. That leaves 90 teams servicing 53MM people, or something like one professional team for every 588,889 people. Germany has 56 professional soccer teams servicing 81MM people, although this comes with something of a caveat – the vast majority of these teams are located in the former West Germany. The former East Germany has only eight of these teams, most of whom are at the lower levels – only four teams in the former East Germany play in the top two tiers of German soccer, which consists of 36 teams. The former East Germany's almost a different country; lots of economic issues persist and there are cultural differences. Still, many, many more professional teams exist and thrive in both countries.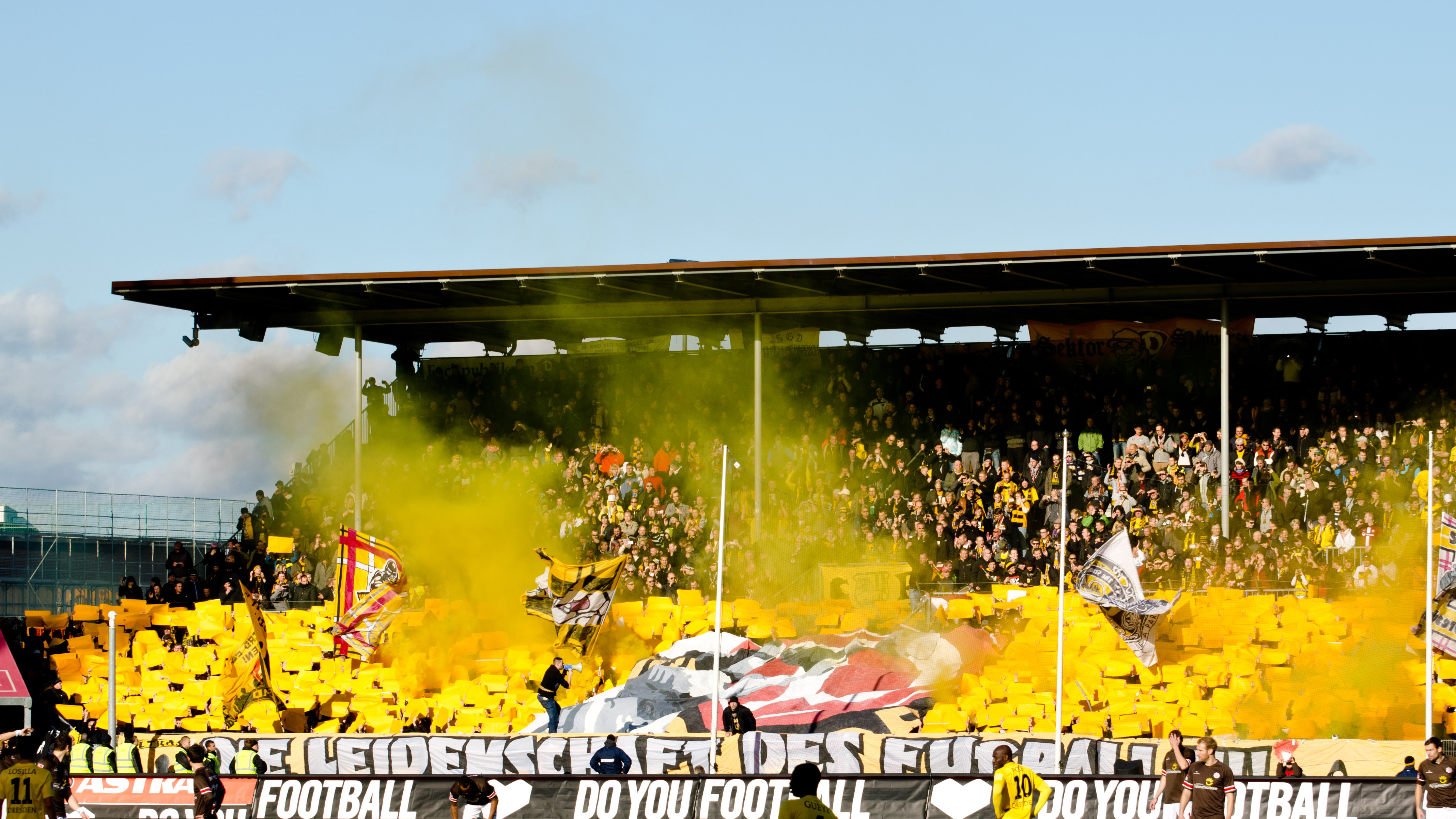 Dresden away support.
Maybe Canadians just don't care about hockey the way that the English and Germans care about soccer? I suppose that's possible. Although, the NHL generates north of $1B annually here from just seven teams. Canada also somehow supports 52 major junior teams. Eight of those teams drew more than St. John's, the best supported AHL team in Canada did last year. Eleven of those teams outdrew the Marlies. There seems to be more of an appetite for major junior hockey in Canada than there does for AHL hockey, which is weird, given that junior hockey is, objectively, a much worse product than the AHL. As we all know, TSN does crazy business with the World Junior Championships as well, routinely drawing massive TV numbers.
I think you'd be hard pressed to argue that Canada doesn't like hockey as much as the English and the Germans like soccer. Why, then, do we seem to have such a limited interest in professional hockey played by men (as opposed to amateur hockey (at least for the players) played by boys) relative to the English/German interest in soccer? My argument is that it's because European (I'm just going to use this as shorthand for English/German) teams are organized on a club basis, whereas North American ones are organized on a franchise basis.
A proposition: it is objectively stupid to have your favourite North American hockey team be a non-NHL team. If you were to support such a team, you'd be cheering for a team which exists almost entirely to service an NHL team. Players can be called up or sent down from the parent club on a whim. The team can't aspire to grow and achieve bigger things. If you were a fan of an AHL team a decade ago, you're almost certainly a fan of an AHL team today. By way of contrast, if you were a Fortuna Dusseldorf fan a decade ago, you were watching your team play in kits sponsored by a band called Die Toten Hosen and playing in the fourth division. Two weeks ago, you would have seen your team, now in the Bundesliga, beating Borussia Monchengladbach, a local rival, in the DFB-Pokal, which is a German knockout tournament. This was followed by 55,000 people singing Die Toten Hosen's Tage Wie Diese and waving Dusseldorf flags.

Tage Wie Diese and little Dusseldorf flags.
(Aside: Germans LOVE singing in public. A year ago, I was sitting on a boat in Majorca with my girlfriend and another couple. We were anchored in a sort of cove, with dozens of other boats anchored around us. As night fell, the air was full of Germans singing old English pop and rock songs. You haven't heard "Summer of '69″ until you've heard it sung a capella by a boatful of Germans.)
Fortuna Dusseldorf's story isn't that unusual – of the 18 teams in the Bundesliga this year, seven of them weren't there a decade ago. Seven of them weren't there five years ago. 51 teams have played in the Bundesliga since it was founded. There's a lot of turnover. Supporting a club in a lower league isn't necessarily a foolish thing to do because you can reasonably expect that your club will someday get a shot at taking on the titans of German soccer. This turnover isn't limited to Germany either – the Premier League has had 45 teams spend at least a season in the league since it was founded in 1992.
The relevance of clubs in both leagues is reinforced by the presence of a national cup competition (two, really, in England). As I mentioned, SV Sandhausen were a third division team last year and this year are new to the second division. They got to play a game against Schalke 04, who are currently second in the Bundesliga and leading a Champions League group that includes Arsenal. They lost – deservedly – by a 3-0 score but it was a pretty great moment for their fans, getting to see their team get a shot at one of the best teams in the world in front of 52,000 fans in Veltins-Arena. And, of course, there's always the possibility of an upset. I got a shirt celebrating such a win when I was at St. Pauli – St. Pauli knocked off the then European Champion Bayern Munich during the 2001-02 Bundesliga season, an event known as weltpokalsiegerbesieger, which I'm told means something like "the beaters of the Cup champions." None of this is possible in North America.

Klaas-Jan Huntelaar finishes off Sandhausen with Schalke's third goal of the night.
My belief that support of what North Americans would think of as minor league clubs is due to the fact that those clubs are independent entities that exist for their own reasons finds some support in the experience in countries that permit entry of a B team into a lower level. England doesn't permit this and the Germans only permit entry of a B team at the fourth level on the pyramid. The Spanish league, however, admits B teams to the second level on the pyramid. The two lowest attendances in last year's Segunda Division belonged to the two B teams playing in the division, Barcelona and Villareal. Barcelona's A team drew 84,000 a game; the B team fewer than 3,000 people. The pointlessness of minor league teams is the best explanation I can come up with for this phenomenon, both in Europe and here.
The superiority of a club system to a franchise system doesn't just manifest itself in terms of legitimizing following a team in the second division or lower. It allows room for a far more diverse set of tactics to be tested out. Blackpool kind of made their (recent) name with a relentless attack, producing goals at both ends of the field and refusing to change just because they happened to be facing a large club. There seems to be more room for diversity of tactics, with guys like Zdenek Zeman in Italy committed to a sort of ludicrous attacking style.
North American sport doesn't really seem to have the same space for tactical innovators – people in hockey are still talking about Roger Nielsen, for example. Bill Belichek's decision to go for it on fourth and five against the Colts a few years ago, despite being clearly sensible according to the math, was hugely controversial. Jonathan Wilson of the Guardian has a piece on the website today talking about why there are more goals being scored these days, something he attributes in part to the influence of a guy named Marcelo Bielsa. Hockey, to pick just one North American sport, is awfully bland tactically – there aren't a wide array of teams trying a wide array of things.
Large league structures with independent teams provide more opportunities for guys who are prepared to be tactically innovative, which only serves to benefit the sport as whole. It's easier to take tactical risks and try something if you're running a second or third division team that needs to find an edge than if you're working for a minor league team that exists only to service a major league club. If it works, your team gets a temporary competitive edge, until it's adopted elsewhere and you make a name for yourself. The Oilers aren't interested in having Todd Nelson try things and experiment with the game in Oklahoma City; they're interested in having him turn out hockey players who will play for the Oilers. Todd Nelson's interested in some day working in the NHL. His chances of doing that will be reduced if the Oilers fire him because he's pursuing different things tactically. Wanting a coach to produce NHL players and a coach wanting to work in the NHL aren't necessarily bad things but they kind of combine to reduce the chances of innovative tactical things being tried in a space in which they're most likely to be attempted.
The club system also results in clubs playing a far more important role in the community than teams do here and to reflect the community to a much greater degree. Celtic and Barcelona are both pretty well known focal points of nationalist movements for the Irish and Catalans. A Celtic game is basically a nationalist Irish gathering and that's with it having been toned down considerably in the past few years. (This is, of course, both good and bad. It's undeniably interesting though.) Barcelona isn't just a representative of the Catalan community but it has, in the past, served as a sort of focal point for opposition to Franco, which was of considerable importance to Catalans. Even today, Barca is owned by its supporters and operates as a democracy, with the board of the club being elected – democracy is a value of importance to the club in part because of the fact that it existed for 40 years or so in a Spain with no democracy.
Then there's St. Pauli, which has a pretty cool history of its own. It's located in the St. Pauli quarter of Hamburg, a few blocks from the Reeperbahn, Hamburg's red light district, which is actually kind of lame. In the 1980s, St. Pauli were doing pretty poorly and soccer in general in Europe was a bit of a right wing cesspool. The British were dealing with National Front recruitment at games and, from what I've read, Germany had a bit of a neo-Nazi problem at games itself. St. Pauli was having terrible attendance as a result of the decline of Hamburg's docks and a lot of left wing types started to move into empty housing in St. Pauli. They also started to come to soccer games.

The St. Pauli crowd gathers pre-game.

The Maple Leafs may not sell heroin but German capitalism is alive and well.
The club itself changed as a result of the fanbase changing. They banned right wing displays at the stadium and worked hard to create an atmosphere of inclusiveness for people of different ethnicities, women and LGBT people. European soccer in general is a pretty male environment – my girlfriend once learned, much to her dismay, that there are no women's washrooms in the BJK İnönü Stadium in Istanbul. Even outside of Turkey, you don't see nearly as many women at soccer games or sporting events as you do in North America. The crowd at St. Pauli was notably different, with women my mom's age showing up on bicycles and, as my girlfriend pointed out, a shockingly high percentage of girls aged 7-13 or so relative to North America. She was also thrilled to see that they had women's washrooms. Fanladen St. Pauli, the local fan club, continues to do all sorts of social work.

Art on the walls inside St. Pauli's Millerntor-Stadion.
My point is not that North American clubs should all support political causes but that it's cool when sport is able to be a place in which advocacy for social change can happen or where the team is about something more than leveraging $50MM into a bunch of free public money. It can build an incredible relationship between a team and its supporters too. North American sports teams know this and try to take advantage of it but because they're big business and therefore inherently conservative, what you end up with is teams engaging in showy displays of supporting issues that nobody who might someday give them a nickel could find disagreeable. Even then, if they're inept, you end up with commercials on TV about how they built a room for child witnesses to wait in before giving evidence in court that kind of gives you the impression that they're using abused children to burnish their corporate image.
A lot of my Maple Leaf fan friends are proud of how the Maple Leafs have become really pro-LGBT issues since Brian Burke's son came out. It's praiseworthy, I suppose, but it shouldn't be confused with them taking any sort of a risk on the issue. Where were the Maple Leafs 15 years ago? The Maple Leafs, and other teams, got comfortable with the issue when they were convinced the benefits of doing so outweighed the cost. Supporting gay rights is along the same lines as supporting soldiers these days – it's risk free. A marketing move, as opposed to a sports club being about something bigger.
Which brings me to the issue of ownership, more generally. I'm not going to delve into this too deeply but the German league has a cool rule that requires that 50%+1 of the shares in teams are held by the fans of the club. This is, I think, a good thing and one which is more likely to produce teams that are run in the interests of the supporters. German teams are notorious for having cheap ticket prices – the face value on the tickets we purchased for four games there totalled €91. Beer is about half the price that it is in Canada. Food at the game is cheaper too. All four teams we saw offer cheaper tickets for children – Borussia Dortmund sells a season ticket for kids to watch one of the best teams in the world for €75, which works out to an absurd €3.75 a game. While you can certainly buy expensive tickets to a soccer game in Germany and the cheaper tickets aren't always available as a one-off, watching high level sport does seem to be more within reach of the average person than it is under the NA cartel system.
Shifting gears, the structure of soccer in Europe seems to provide a lot more games that matter. At the top level, within the context of the league, teams are competing to win the league, qualify for the Champions League, qualify for the Europa League and, if all of that fails, to avoid relegation. Teams in lower leagues are playing to win the league, get automatic promotion, make the promotion playoff or avoid relegation. As mentioned, there are also cup competitions that run during the season, producing more meaningful games for fans to watch with something at stake. The cup competitions also throw up interesting games for the neutral fan to watch – just yesterday, results in the FA Cup produced an AFC Wimbledon-MK Dons game.
It's not just the variety of things that teams are competing for that results in more interesting games; it's having fewer regular season games. In most leagues, the season is run on the basis that you play each team home and away, resulting in a season that ranges from 34 games (Germany) to 46 games (the Championship). What's the principle that governs how frequently NHL and NBA teams play? Providing guys who own arenas with content? The biggest teams in Europe will play more games than that when you factor in all of the competitions that they play in – Chelsea, who won the FA Cup and Champions League, played 61 games last year. If you're a hockey fan, or a basketball fan, or a baseball fan, this probably sounds horrible to you: why would you want your team to play way fewer games than it does? Except…I think that there's a good argument to be made that it has a lot of awfully good side effects.
First off, there aren't, as far as I know, any local TV deals in the Bundesliga or Premier League. One of the problems that MLB, the NBA and NHL have, in terms of creating massive financial disparities between teams, is local TV deals. The NFL doesn't have this problem, given that there are no local TV deals, although I understand that there are some issues with other local broadcast streams. If you play a shorter schedule, you can have all of the games broadcast nationally.
Second, I've kind of been pondering for a while a point that John Collins raised last season in an interview with Bruce Dowbiggin:
"I see a lot of parallels between Americans and football and Canadians with hockey," he says. "CBC wants as many Leafs games on Saturday night, because people watch them. Just the way ABC would have taken Dallas-Washington every week on Monday Night Football." But this concentration has a downside come playoff time. "If the Leafs aren't there for CBC, the Canadiens aren't there for RDS, we can't have Canadian fans turning off the lights, going to the cottage.

---

"How we change that is tell more stories, give more balanced coverage of the other teams around the league so people who are interested in that can have it. It's not a criticism of our current partners. TSN does hockey as well or better than anybody. But you're watching trade deadline day and they say, 'Let's talk about how the seven Canadian clubs are in the Rick Nash sweepstakes.' I understand it, but as somebody responsible for the shield, it should be a unifying force in Canada, not a bureaucracy in a New York office."
Good luck to Collins but I'm pretty sure that he's doomed to failure here. I agree with his point that the NHL has a problem in terms of fans tuning out when when their team is eliminated but I'm pretty convinced that having fewer Leafs games and more Predators games on TV on Saturday night isn't going to result in more people excited to watch Nashville when they make a playoff run while the Leafs are inevitably sitting at home in May. It's going to result in fewer people watching hockey on Saturday night and more people watching hockey whenever it is that the Leafs play.
The problem is this: people would rather watch a team in which they're invested, even if that team stinks, than a team in which they have no investment, even if that team is good. This is compounded by the fact that people only have so much time to watch sports. Say you prefer to watch the Oilers play over any other team. The NHL regular season takes place over about 190 days. You are awake for 16 hours a day. That's 3040 hours. There are about 205 hours worth of Oilers hockey available during that time. The soccer season runs from about mid-August to mid-May. Call it a 270 day season or 4,320 hours worth of waking time. Games take about 1:45. If you're a Chelsea fan – and they probably played more games than anyone last season – there was 106.75 hours worth of Chelsea soccer available for you to watch during that time.
In other words, the NHL, NBA and MLB provide so many games involving your team that it's quite understandable if people have a tendency to only be invested in the team that they follow. Perhaps unsurprisingly, the NHL and MLB both fight with TV ratings dropping during the playoffs. The NBA does too, to a lesser extent – they're saved a little bit because of the extent to which the elite players in basketball control the game, which makes it more likely that the best players, guys like Lebron James and Kobe Bryant, guys who transcend the sport, will go deep in the playoffs. The NFL, with a 16 game schedule, doesn't have this problem. It does huge business in the post-season.
Bringing it back to soccer, it's a lot easier, with a reasonable investment of time, to have some sense of what's going on around the world of European soccer. You're more able to follow the league as a whole, as well as specific teams in other leagues in which you have some interest. If there were controversies about who should be in the lineup in Florida or Tampa or Carolina last year, I knew nothing about them and I probably follow the NHL more closely than most. I don't particularly have a favourite team in the Premier League at the moment, but I'm up on what's going on around the league because Blackpool don't fill the soccer space in my life to overflowing the way the Oilers do with the hockey space. Like the Super Bowl, the Champions League Final in Europe is massive. If you like watching football or watching football, you can achieve a degree of investment in teams other than your primary team.
It's probably also worth noting that a ridiculously long season limits the number of cities that can support a team. Blackpool, with a population of 150,000 or so, have enjoyed a year in the Premier League. NAC Breda (population of Breda: 316,000) play in the Dutch Eredivisie and have enjoyed a couple of UEFA Cup runs. Schalke 04 are located in a reasonably small city (Gelsenkirchen) albeit in an area with a significant population.

Electronic scoreboard notwithstanding, home goals in Breda are also communicated by way of a flag that is run around the stadium with the score.
So what the long season of North American professional sport creates is a) enormous additional financial power for popular clubs through the sale of local TV rights, b) enormous difficulty in following the league as a whole, c) limits on the number of cities that can support a professional team and d) a glut of utterly meaningless games. Just how meaningless are those games? We can do an experiment. Imagine that the NHL operated on a home and home basis. Every team in the NHL played every other team twice and that was the regular season. If you run it through for last year (counting the single games against non-conference opponents double), you get standings like this:
Not all that different. As you add games, you necessarily delete meaning from those games in terms of the final standings, although you do provide the arena operators with additional nights of content, if you get excited for that sort of thing. If the NHL operated along European lines, you might have four twenty team leagues, with a single knockout Canadian Championship and American Championship played throughout the regular season involving all of the teams in the various leagues, followed by an eight team Stanley Cup playoffs at the end. More relevant hockey teams in more places with more meaningful games and a fanbase that has some investment in teams outside of their own.
Of course, none of this will ever happen. It's a matter of taste, I suppose, but it sure seems to me to be vastly preferable to what we have. There are some criticisms of the European leagues, mostly along the lines of the same teams being dominant but these don't strike me as being criticisms that specifically relate to the structure of the sport but more to do with the allocation of money generally and TV money in particular – La Liga, for example, doesn't sell TV rights collectively, so Barcelona and Real Madrid get an extraordinary amount of the TV rights money, which is basically a variant of the problem discussed above with local TV rights, only worse. The Champions League also sort of exacerbates this – teams that make it from England, Germany, Italy and Spain rake in TV money, which allows them to further ensconce themselves at the top of the table.
With that being said, this is a structural issue, capable of redress by sharing money more equitably. Alternatively, you can conclude that this isn't really a huge problem and that the league structure provides more opportunity for fans to choose what they really want – if you're a racist who needs to cheer for a team that is perpetually good, cheer for Chelsea. If you just enjoy bland excellence and the company of horrible frontrunners, Manchester United and Bayern Munich are available. If you want a team that tries to further certain social values, it's available. A team with a commitment to playing a certain way is available. There's considerably more variety.

The Schalke fans wait for the game to start.
One last point: the atmosphere at European soccer games is approximately a thousand times better than the atmosphere at North American professional games. Some of this is cultural – as is noted above, Germans are less reticent than North Americans about singing in public and there's more of a culture of vocal support at games. Some of it, I suspect, has to do with there being a lot of meaningless games involving teams between whom there is no bad blood. Some more of it probably has to do with the type of people who can afford to get into the rink – the Toronto investment banker entertaining clients isn't interested in creating atmosphere at the game.

You probably would not be allowed to hang a leg out over a ledge in the North American nanny state as these fellows are here.
In short (uh…) the European system provides more meaningful games, more opportunities for meaningful teams to exist (imagine the Leafs playing a team centered in Scarborough or, even more improbably, Hamilton), teams that are more relevant in the communities that they're part of and more opportunities for people who aren't pulling down six figures to attend games on a regular basis.
Oh – and they're playing games at the moment. If nothing else, they've got that.
Email Tyler Dellow at
tyler@mc79hockey.com