Mission 2014.
Canada doesn't get to play in all that many potentially seminal sports games. In the last ten years or so, you can probably only stick a few hockey games in there – the 2002 and 2010 gold medal games and maybe the Russian game in 2010. Truthfully, we're pretty lousy at everything at which the world competes so, outside of hockey, these games just don't come along too often for us. When Canada beat Cuba 3-0 at BMO Field on Friday night and Panama and Honduras played to a draw in Panama City, Canada needed only a draw in Honduras to advance to the Hex, the final road of World Cup Qualifying, a place that Canada hasn't seen since qualification for the 1998 World Cup. A potential seminal Canadian sporting moment! I eagerly cashed in my Aeroplan points and got on the plane!
Honduras 8. Canada 1. 8. 1. In a soccer game. For comparison, San Marino (pop. 32,404) played England at Wembley Stadium on Friday and lost 5-0. All but one of the San Marino players play in the San Marino domestic league. The other guy plays in the fourth or fifth division of the Italian leagues. How does a country like Canada lose 8-1 in Honduras to a team that they were a better placed header away from beating in Canada, which would have put Canada through to the Hex and rendered this game meaningless?
This is a tricky question. I'm fairly new to the Canada supporting community and, after about two years of observing these people, I've come to a conclusion: most of them have sustained such psychological damage from their many years of supporting CanMNT that their perceptions are inherently unreliable. They also seem to be something of a squabbling rabble, nursing grievances and waiting for a moment at which to unleash their complaints upon the world. Many of these complaints may be unrelated to the loss or setback that CanMNT has just suffered. It's quite a spectacle.
In saying this, I don't judge these people. CanMNT has been a disaster for 15 years. In 2002 qualification, they crashed out at the same stage, finishing 10 points behind Trinidad and Tobago and 8 points behind Mexico. In 2006 qualification, they finished 5 points back of Costa Rica and Honduras. In 2010 qualification, they finished 10 points behind Honduras and 8 points behind Mexico. With the setup of CONCACAF being what it is, it all adds up to a lot of years with no competitive games or, years like last year, with competitive fixtures against St. Lucia, St. Kitts and Puerto Rico. If you're emotionally invested in CanMNT, I would imagine that it's been a pretty brutal experience. Maybe you don't last as a CanMNT supporter unless you're the sort of person who derives some sort of gratification from maintaining long standing grievances, I dunno.
In any event, I'll come back to that. The game was played at Estadio Olimpico in San Pedro Sula, the murder capital of the world. I spent the majority of my time in San Pedro Sula hanging out at my hotel, sitting in hammock and reading a Churchill bio because large Latin American cities in general are amongst my least favourite places to visit and large Latin American cities that double as the murder capital of the world tend to sit even lower on that list. I did do a walk through town on my first day there, from my hotel to the InterContinental Hotel (one gets tickets for these games distributed directly by a guy who sits on the bench for CanMNT) and it seemed a pretty squalid place. The highlight was probably the guy wearing this hipster homage to the Oregon Trail video game. It struck me that, in a country in which dysentery is an actual health problem, it may not have been in the best of taste but I decided to defer to his knowledge of local sensibilities.
Other than the razor wire that seems to top every wall in the country, the thing that really sticks out to the Canadian traveler is the sheer number of private security guards. Have you ever seen a Sears guarded by a guy with a shotgun? What about a Sears guarded by a guy with a shotgun with two guys with automatic weapons stationed at strategic points so that when the guy with the shotgun is killed by persons attempting to enter the premises, they can repulse the attacking forces with a hail of bullets?
(Obligatory for me: The safety advice in San Pedro Sula is don't go anywhere after dark except by way of a cab. A lot of the violence and killing is drug related. It spills over into the community as a whole. If the Canadian government had a policy whereby we spent billions of dollars a year to be part of a multi-national force that killed thousands of people in Central America, Canadians would be up in arms about the immorality of it all. If it's a passive consequence of our drug policy, everyone's willing to sort of shrug their shoulders and not think about it. On some level, their problems are their problems to deal with but it seems undeniable to me that our policies impose an extraordinary cost on them that, for some reason, nobody in the Canadian political sphere is willing to be honest about. At some point, fifty or a hundred years from now, when failure in the war on drugs has been admitted, the tolerance of dead people with browner skin than ours is going to be seen as a major moral failing of developed countries with an appetite for cocaine.)
On game day, I hopped in a cab with three other Canadians who had traveled down and headed over to Estadio Olimpico. It's basically impossible to communicate to Canadians what a dump this stadium, built in 1997, is. They need a David Grapas down there, explaining how a new downtown stadium will revitalize their community. I haven't been in a facility that's anywhere near comparable in North America. The Honduran fans were pretty amused by our presence, I think – I'd guess that I posed in fifty pictures over the four hours or so we spent at the stadium.

Canada's swanky bus, that it took from the swanky hotel, on the two occasions that it left the hotel while in Honduras.

Hotel security. Apologies for the photo quality – I tend to shoot people with guns surreptitiously.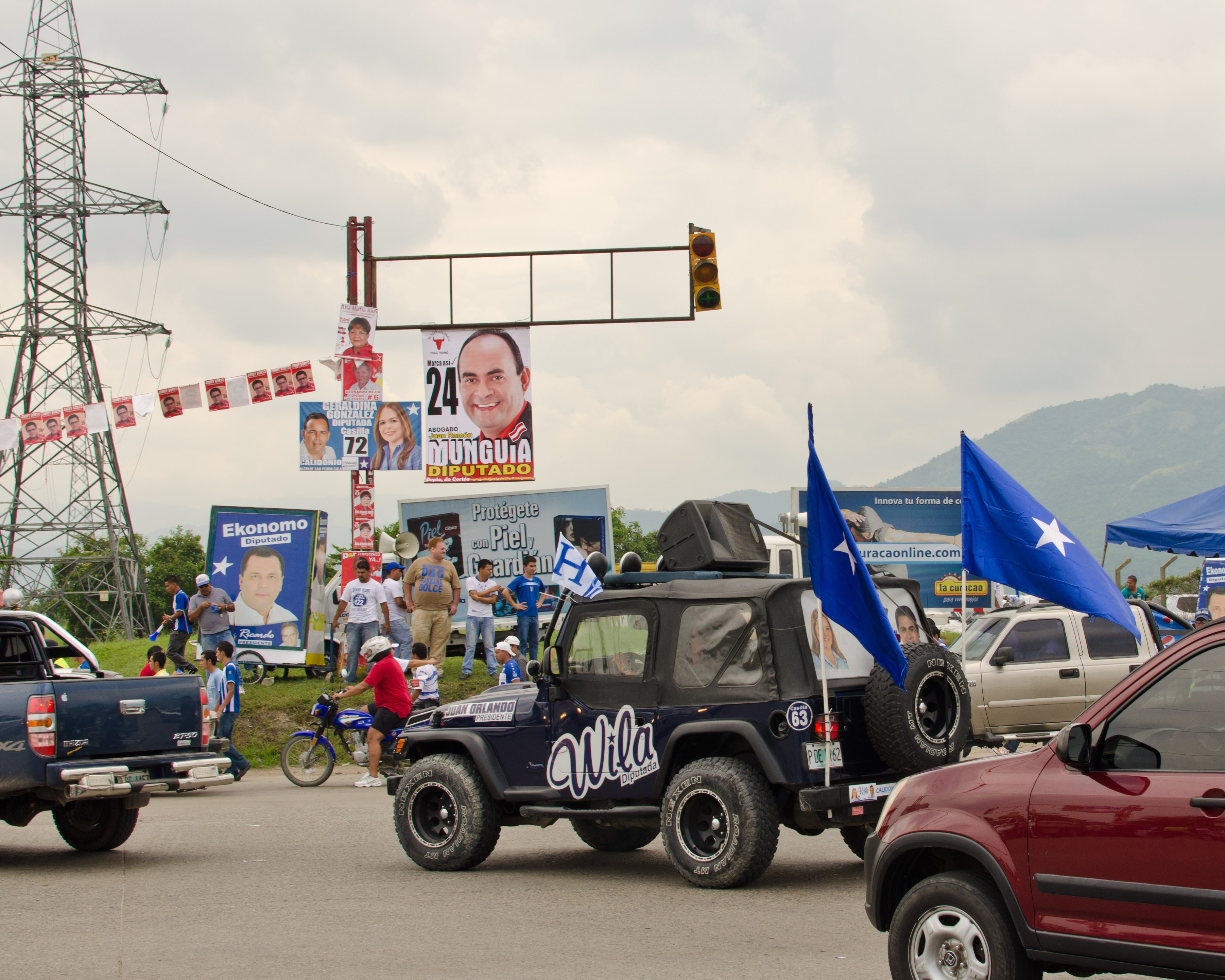 Time to choose the next group that will suffer a coup.

Even an hour before game time, there were long, long lineups to get into the stadium.
We were grabbed by a Honduran TV crew as we approached who were looking for an interview. One of the guys who had traveled down happened to be fluent in Spanish and had done a number of Honduran print interviews when he got off the airplane. After his interview and our group doing a little Canada chant for the Honduran networks to show, we headed in.

The obligatory interview with the Honduran press.
It was reported that individuals were not being permitted to bring guns into the game (Hondurans are reportedly allowed to own five guns each) but if anyone was checking, I didn't see it. No metal detectors, no pat downs, no apparent effort to locate any hidden weapons. They take your tickets at what is a sort of fenced perimeter and you then approach the stadium. Honduran safety laws being what they are, people are perched on the very top of the bowl. As we started to walk around the stadium in order to find somewhere to sit, a full coke, thrown from a couple of hundred feet up, hit the ground about two feet away from me. We quickly moved under the upper lip of the stadium, so as to not provide a target to those above us.

Truly, a land without tort lawyers is a happy place, as people are free to stand on ledges above drops that would kill them. If nobody fears the lawsuit, nobody tells them to get down.

Or not to climb even higher, into a rusting metal structure overlooking the field.
After a walk around the north end of the stadium, we ended up at a locked gate. It seemed apparent that the locked gate was into a more expensive part of the stadium; it was also in the area in which the Canadian team bus had entered. Although our seats weren't in that area (and although we had been told that Honduran officials claimed they had some sort of plan to provide the Canadian supporters with some security), to her immense credit the security woman concluded that it was not safe for us to sit where we were supposed to sit and moved us into the more expensive/safer area. Greatly appreciated, although I think the security threat would have evaporated pretty quickly – it still would have been an uncomfortable hour leading up to game time.
I can't emphasize enough how friendly the Honduran fans we encountered were. There was the usual sort of good-natured trash talk you find at this stuff but people were really welcoming. As I mentioned previously, we couldn't take more than a few steps without someone asking us for a picture. A number of people talked to me and emphasized that we shouldn't have any problems because the game was a game and we're all just supporting a team, whether it's Honduras or Canada. Who knows what would have happened if things had gone differently but I didn't really have any safety concerns once we were inside the stadium.

The president of the Honduran Congress, according to the guy standing beside me. Also more fully automatic weapons than I've ever seen in real life outside of Latin America, in one single photograph.

These guys kind of drew some lousy duty. The stadium was lousy with armed police and soldiers and they got stuck guarding the cars.
The pre-game atmosphere was amazing. I've never been to a North American game that early but the stadium probably had 30,000 people in it an hour before gametime and they were making noise. There was a PA guy who was kind of whipping the crowd up with a "Honduras, HONDURAS, HONDURAAAAAAS" every couple of minutes. Just insane scenes. The seating was a bit of a mess and, a few minutes before game time, we settled in at the top of a section, standing with our backs to the wall behind a row of seats. I thought our performance of the Canadian anthem was pretty creditable but the Hondurans singing Tu bandera es un lampo de cielo so loudly that I couldn't hear any music being played kind of blew our performance away.

For the briefest of moments, Canada seemed united.

In retrospect, this Honduran display of unity was considerably more convincing.

Julian De Guzman does not have good ups.
For the first half hour, when you could imagine Canada having a chance of getting something out of the game, it was pretty amazing. While I didn't particularly enjoy Honduras scoring first, the roar of the crowd when the ball went into the net was something to behold. It was different than the roar from a big goal in Canada or the United States – it was a sort of communal frenzy. A number of Hondurans with whom I spoke emphasized how important soccer is to them with reference to the problems that the country has. When they celebrated that first goal, you could believe it. Pandemonium, drinks flying everywhere, screaming…everything.
When Honduras made it 3-0 in the 29th minute, it was faint hope time and when they made it 4-0 a few minutes later, it was enjoy the experience time. It's hard to describe how poorly Canada played – the only really comparable moment I can think of in Canadian sports history is the 8-1 loss to the Soviet Union in the 1981 Canada Cup, in terms of sheer embarrassment, national attention being paid to the game and the importance of the game.

Relax Atiba. If they're busy celebrating, they aren't busy scoring.

Honduras work the ball around for a while.

Twenty minutes later. During the same Honduran possession.

Nothing quite like pounding beers on a ledge from which a fall will cause your death.
Canada's goal in the 77th minute to cut the score to 6-1 did draw some applause from people in our section, who I think felt pity for us more than anything else at that point. Finally – after two more Honduran goals – the final whistle blew and it was done.

A morose Canadian coaching staff looks on.

Kevin McKenna watches play during the second half.

Iain Hume – who came on as a substitute when the score was 4-0 – chases Arnold Peralta, while Stephen Hart continues to shout instructions from the sideline, for reasons known only to him.

Lucas Cavallini wonders why, exactly, he agreed to play for Canada while he waits for the referee to allow him to enter the game.

Simeon Jackson checks out without so much as a look at the coach.

Iain Hume shoots…

…and scores! And it's a 6-1 ballgame! With 13 minutes PLUS injury time to go. Could it happen?!?

I don't know if a Canadian flag in the hair goes with a Honduran shirt but it beats the hell out of being a shirtless fat guy in a wig.

The goal isn't enough to stop the bleeding. It's 7-1.

And 8-1.

Yellow card. The referee was a bit slow to give out, and we five Canadian supporters shouted for it, so that counts as a moral victory.

Kevin McKenna didn't seem too eager to swap his shirt post-game, passing on opportunities here…

…and here. One wonders if he wanted to keep the last one he wore.

Julian De Guzman, by way of contrast, was down to his underwear before he even got off the field. I was going to refer to this as a metaphor for his work on the second Honduran goal until…

…I noticed that he had gifted the shorts to a Honduran boy in a wheelchair.

While it is apparently traditional for fans from opposing countries to swap shirts at these games, it did give the obligatory post game interview something of a capitulatory look.
Which brings me to the Canadian reaction. First of all, this from Kurt Larson at the Toronto Sun:
People playing down the atmosphere at the Estadio Olimpico yesterday as if it was nothing. #guessyouhadtobethere#CANMNT
This is nuts. Was it loud? Sure. Canada also spent all of their time either on the bus, traveling with a police escort, in their very nice hotel or on the pitch, which was surrounded by a track, then wire fences, then razor wire on top of those wire fences and then a dry moat. Oh, and there were hundreds of police and soliders with serious guns present. The pitch looked reasonably good to me. Outside of the fact that there was a mass of people who wanted the other guys to win and were extremely vocal about it – something that these guys should be used to, what with being professional soccer players and all – I'm not sure how this experience was materially different from playing away games elsewhere. Any Honduran with an arm good enough to hit a Canadian player with one of the fabled bags of piss from the stands is likely playing baseball for a living.

View towards the north end of the stadium. Note the extent to which the stands are set back from the field.

South view. Ditto on the space between stands and field.

This is the moat and wire that a fan who wanted to get onto the field would have to clear before he even got to the track. Like I said, loud crowd but not really much reason to fear for your safety or anything and nothing professional athletes shouldn't be able to deal with.
One of the veins of bitching from CanMNT supporters has been Canada's record in Central America since 1996 – they've only one win and, if I've counted correctly, have a record of something like 1-6-2. Frankly, I've got an awfully hard time taking something from nine games played over a period of 16 years, particularly when, in many cases, the Canadian team would not have been expected to win those games. When you consider the specific experience that this version of the CanMNT had when traveling down there at least, it's maybe time for Canadians to stop talking about the hostile atmosphere in Central America, at least as far as Honduras is concerned. I'm always leery of the topic of mental blocks and psychological hurdles in sports but not building up the experience of playing games in Central America as something akin to the Battle of Dieppe might help with the old mental fortitude.
This being CanMNT, as soon as the game had ended, various parties brought out their personal dead horses to whip. Twitter's @Lord_Bob started complaining about how there were no games hosted in Vancouver during this qualifying cycle. He appears to have understood that he was promised a place in the Hex in exchange for all of the games being hosted in Toronto. Toronto is, of course, significantly closer to Europe (making travel easier for our various European based players) and has a grass field in its stadium. It seems like a reasonable decision, made in good faith but if Ben is in anyway representative, will produce another round of bitching when it's made next time. That's among the more sensible of some of the complaints that I've heard since the game. For all of the CSA's failings, I suspect that working there, and dealing with people who are so irrational that they have not just turned away in disgust, involves certain amount of just unbelievable irritation.
A number of mainstream media types started complaining about player development, which does seem to be a valid complaint – see Jason De Vos' lengthy piece on TSN for an example. It does seem odd that a country of Canada's wealth, with the volume of people playing soccer, can't even occasionally be amongst the six best in CONCACAF when we're basically competing against third world countries. With that said, it does seem that some of the criticism goes a bit far.
John Molinaro, to name but one, is adamant that Canada isn't good enough to make the Hex right now. That is, to me, a baffling criticism, given that Canada was a goal against Honduras in Canada away from the game in Honduras being meaningless, with Canada already having qualified for the Hex. One goal. A couple of headers off of set pieces in that game just drifted wide; it was not impossible for that goal to have been scored. You can say that Canada isn't one of the best two teams in the group, I suppose; I don't know how you can say that they weren't good enough to go through. The last three cycles, fine. This time? Hard to see. They were inches from being through. Teams that aren't good enough to go through don't get that close.
Perhaps the most unfortunate thing about an 8-1 loss that results in an elimination is the way in which it colours the analysis that CSA now has to do. Canada's coach, who resigned between the time I started writing this and the time I was able to post it, is a guy who has come up through the Canadian soccer ranks to get the top job. His most notable non-CSA job is probably his eight years spent coaching Halifax King of Donair. I don't really feel qualified to comment on the quality of the job that he did but that does seem like an awfully light resume. Reading some of the instant analysis post-game about his various failings in terms of player selection, I'm a little amazed that so many people can be so familiar with players who they see so infrequently – CanMNT doesn't play that much and many of our players are playing in European leagues with basically no television coverage. I'm sort of surprised that they feel qualified to comment so vehemently on his choices.
I wonder if Canada wouldn't be better off waiting a while before looking for a new coach. One would hope that we could attract, at the very least, an ambitious coach who sees CanMNT as a stepping stone to bigger things. I'm not sure that such a person would be eager to take on the job at this precise moment, with a low stakes 2013 Gold Cup being the only Canadian games of note prior to 2015. If I was such a person, I might be inclined to find something better to do with my time than run a national team program that basically goes into hibernation now for 2.5 years.
All of which is a longer way of saying that I hope CSA doesn't put too much emphasis on the "8-1″ side of things (my guess: the players spent 15 minutes at half-time thinking about how they'd pissed away an amazing chance at the Hex and then basically quit) and instead does take a realistic look at what can be learned from this round of qualification and what can be done next time to get over the hump and into the Hex. Lessons might include not building up Central American games so much, getting rid of some of the guys who checked out at halftime (happily, age will take care of this with many of them) and, possibly, getting some better coaching. De Vos' arguments about getting serious about player development make sense to me too, although that's more of a long term thing and not something that can be addressed in the immediate future.
It might also be worth exploring whether or not there are ways to make the travel easier on Canadian players. People laugh about travel complaints from pro athletes but seven of Canada's starting XI started this round of qualification with a flight over from Europe. They would have done the same in early September for the last round of qualifying. They spent a few days in Toronto and then had a flight down to Honduras. Only four of Honduras' players started this round with an inter-continental flight from Europe and they played both of their games in Central America. (Incidentally, this probably bears to a certain extent on the "Canada isn't good enough to make the Hex" argument. It's odd that European teams are happily employing inferior Canadian talent, when Honduran talent is there for the taking, if that's what's happening.) This is more of a long term issue but surely CONMEBOL would also be interested in looking at ways to revamp qualification processes so that it put fewer miles on players based in Europe, possibly with fewer international breaks but longer ones.
Other than that, it might be best to just chalk it up as a bunch of stuff that happened and leave it in the past. There was an excellent piece at Canadian Soccer News making the obvious (but necessary) point that 8-1 is an outlier. A horrible result doesn't necessarily have anything to do with where a team or a country is necessarily at. It's awful that Canadian soccer has let a moment where the game in Canada could have been vaulted to the next level slip and I sympathize with the people who have invested a lot more in supporting the team over the past fifteen years than I have.
The issues that people are using the big loss as a springboard for – player development, games in Vancouver, the quality of coaching – would have been there, win or lose. They'll be addressed or they won't. The chance for soccer in Canada to have the moment that the USA had in 1994, when the game found a permanent place in the sports consciousness sooner than it otherwise might have, unfortunately, deferred for another four years. All of those other things, as important as they might be, will still be there after a few days of mourning.

Clasificamos.
Email Tyler Dellow at
tyler@mc79hockey.com