It seems pretty likely that we are seeing the last days of Ales Hemsky in an Oilers jersey. The whole thing is playing out as it always does, with increasingly emboldened media members smelling blood and getting their shots in on Hemsky. Just like they did with Sheldon Souray. Just like they did with Ryan Smyth. Just like they did with Anson Carter. We aren't even back into the 20th century yet, but you get the idea. Long time Oilers leaving town has certain rituals that must be observed. It's Northern Alberta's version of seppuku, only with generally honourable people being disembowelled.
I thought it might be fun, in the weeks leading up to the deadline, to highlight some of the completely fair and sensible criticism that Ales Hemsky receives, so that we can all revel in how lucky we are that we will soon be rid of a 28 year old established top three forward coming off a couple years of injury problems.
Commenter DSF at Lowetide's site:
In other news…Ales Hemsky was -4 on the night.

Time for a new long term deal.

Hemsky, at some point, has to be held accountable for his play.

He's played with Smyth for eons and I doubt Hoppy is a tough guy to play with.

Smyth, honestly, looks done but a "go to guy" like Hemsky has to be much, much better.

Then he should be history.

He's part of the problem.
-4 eh!?!? Let's look at all those goals he cost the Oilers last night
There's Hemsky in the bottom right hand corner, looking back on the play as Corey Potter prepares to pick up the puck and lead a smooth Oilers' breakout.
Huh. Potter seems to have knocked it a little far there but I'm sure everything will be fine.
ALLLLLLLLLLESSSSSSS!
Here's Leafs centre Matt Lombardi with the puck, skating out of the corner. Hemsky is up high, just north of the dot. The Nuge is in pursuit of Lombardi.
Lombardi tosses the puck behind the net and the Nuge doubles back, looking for Phil Kessel. Lombardi has, presumably, just backed out into the neutral zone where he will wait for the Oilers to break out.
Three Oilers down low against two Leafs. Defending's pretty easy when the other centreman just stands in the neutral zone – easy to get the man advantage down low.
*Sputtering sounds of outrage* WHAT? LOMBARDI? And look at Hemsky just standing there, taking away the point shot. Bonus points for the way that the Nuge and Jeff Petry split their responsibilities here too – Petry runs out at Lombardi, leaving the Nuge boxed out by Dubnyk and the net as Kessel slides behind and…
ALLLLLLLLLLESSSSSSS!
Here's Taylor Hall, who deserves some credit for back checking hard at the end of his shift after a puck was turned over at the blue line. Potter played the 2 on 1 miserably, letting the pass through for a shot and Hall came back to scoop up the rebound. Chip it behind the net or over to the wing where Hemsky's just lazily standing there, waiting for a pass and it's cool.
Oh dear.
ALLLLLLLLLLESSSSSSS!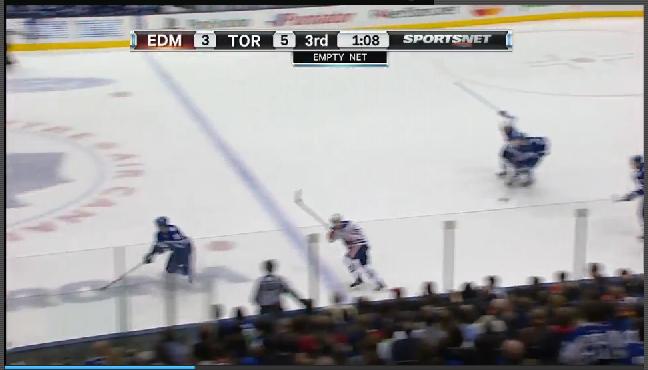 All of Hemsky's goal causing mistakes from earlier had consequences and the Oilers had to pull their goalie. Hemsky was sent out with Eric Belanger, Ryan Jones and Ryan Smyth to try and rescue something. Unfortunately, the puck gets turned over (not by Hemsky) and there goes Phil Kessel. (sad trombone)
But wait! It's Ryan Whitney! He'll either bury Kessel or force him to cut so far back that Hemsky has a shot at him…oh right. Ryan Whitney is basically the closest thing hockey has to the Queen Elizabeth II, in that it takes him about a mile of ice to turn.
ALLLLLLLLLLESSSSSSS!
Another goal that's Hemsky's fault. A -4, completely on him. I bet he'll be the first guy on his flight out of town when the time comes, just like he's the first guy off the ice after practice. Good thing – will free up some money to keep Cam Barker who, having only gone -3 against the Maple Leafs, is clearly much better than Hemsky.