…there's no questioning the job he's done in promoting Stu MacGregor to head scout, the acquisition of extra draft picks so far and the drafting itself.
-Terry Jones, January 23, 2012
There seems to be a belief, strongly held by a lot of media and some bloggers (ENTIRELY UNRELATED: a search for the phrase "Magnificent Bastard" turns up 53 posts on lowetide.ca, that Stu MacGregor has constructed some sort of infallible drafting machine. I'm not entirely sure how this belief came to be but I'm not entirely sure it's merited. MacGregor, who became the Oilers' head scout in September 2007 (and is therefore not a Tambellini hire, not matter what one of the local Elmer Ferguson Award winners thinks (our other local Elmer Ferguson Award winner noted this week that not even Michael Moore, who dislikes the government, supported the decision of "Free Citizen" Tim Thomas not to appear at the White House *brain explodes*)), has had five picks who've made the Oilers in full-time or basically full-time capacities so far: Jordan Eberle, MPS, Anton Lander, Taylor Hall and Ryan Nugent-Hopkins.
That's actually not as impressive as it sounds, given that two of those guys were first overall picks – I'm from the Chris Rock school of grading, where you don't give guys credit for doing what they're supposed to do and if you have a first overall pick, you should be able to draft a star. Lander and MPS are coming along and doing well to be where they are; but have yet to really establish themselves at the NHL level. They're promising. Eberle, of course, reflects fantastically well on the scouting department.
Outside of this, it seems to me that a lot of the case in support of MacGregor is the idea that the Oilers have a bunch of awesome prospects coming. While this might be the case, I'm not sure why the default is that the drafting is going to be awesome. It's always kind of aggravated me that we don't have an idea of what the statistical profile of guys who become NHLers look like. I've gone ahead and put one together for CHL forwards.
What I've done is this: there were 193 forwards drafted from CHL teams between 1995 and 2004 who went on to play at least 200 NHL games. I've assembled a profile of sorts for these guys, after first splitting them into two groups: guys who managed to average at least 0.5 pts/gm in the NHL and those who didn't. First of all, let's look at the age that they made the NHL, defined as playing 40+ GP in an NHL season.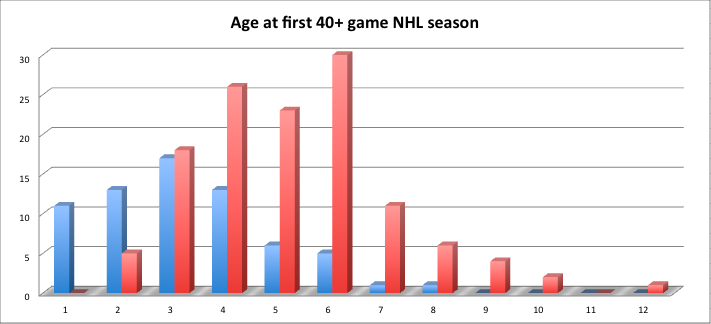 Blue are guys who went on to average at least 0.5 PPG over 200+ games in the NHL; red are guys who were under that. 1=18, 2=19, etc. on this chart – I couldn't figure out how to do a damned horizontal axis label. Lots of noteworthy stuff there – if you don't make the NHL as a teenager coming from the CHL, you're probably not going to be a +0.5 PPG player over the course of your career. If you haven't made it by twenty, it's all the more true. 41 of the CHL F draftees to play 200+ games and score more than 0.5 PPG had made the NHL by the time they were 20. That number rises to 54 at 21 – 81% of CHL F draftees who are going to be 200 GP+ and 0.5 PPG guys are in the NHL by 21. It's a bit different for guys who end up not being scoring types – only 39% of them are NHLers by the time that they're 21.
Let's look at how these guys score at age 20.
It's pretty stark: if you're going to be a scorer, you're either in the NHL or can tear the AHL apart at age 20. 57 out of 67 were either in the NHL on a full-time basis or scoring at least 0.75 PPG in the AHL. If you aren't doing that, you're realistically looking to have a career as a checking type, a guy without a lot of offence who survives by checking. It's noteworthy, I think, that the offensive level achieved by guys who went on to have 200+ NHL GP with fewer than 0.5PPG is so low – basically, over 0.25 PPG and you're in with a decent shout. The success of guys scoring between 0.00 and 0.25 PPG is a bit misleading – there are 19 of them and it includes guys like Scott Parker, Eric Boulton, Todd Fedoruk, Zack Stortini, Chris Dingman, Darcy Hordichuk, Wade Belak, Andrew Peters, Cam Janssen, Shawn Thornton and Steve Webb. So more than half of them are in the league because they possess a single skill, utterly unrelated to playing hockey.
Hilariously, Travis Moen is on that list too. Moen is sort of famously offensively inept – there's some evidence that he's a guy who's true talent on-ice shooting percentage is substantially below 8% at 5v5. It's kind of funny to me that he was pretty bad offensively in the AHL too. It makes me wonder why he got into hockey. All I can conclude is that he liked skating around with nothing happening and then getting to sit on the bench and take a break.
ANYWAY – I wanted a statistical profile and this is that. I feel I have a better sense now of what I should be looking for in terms of understanding what sort of thresholds a guy has to be hitting to be in the race. There's a second part to this, which I hope to get to, which is looking at how many 20 year olds who achieve these thresholds don't end up making the NHL for 200+ games. There were 782 CHL F drafted between 1995 and 2004 of whom only 193 made it to the NHL for 200+ GP; logically, there are going to be a pile of these guys who played AHL age 20 seasons and probably scored somewhere between 0.0 and 0.5 PPG. My point, which I'll discuss a little more below, is that I don't think it's quite as easy to excuse some lousy performances by saying that lots of guys go on to become NHLers despite not scoring much at age 20 – I suspect the percentage is actually pretty low.
Turning to the Oilers, MacGregor's drafted 11 CHL F so far as head scout. It's too early to say anything about three of them: none of Drew Czerwonka, Travis Ewanyk or Tobias Rieder have played their age 20 season yet. Three of them are going to play at least 200 games and score more than 0.5 PPG – RNH, Taylor Hall and Jordan Eberle. The other five guys – Ryan Martindale, Curtis Hamilton, Tyler Pitlick, Cameron Abney and Philippe Cornet, I feel we can say a little bit more about now.
Martindale is 20 this year and has barely played in the AHL – two games in the AHL and 30 in the ECHL, which he's not tearing up. He's supposedly an offensive prospect – his pluses were apparently skill, his minuses a lack of willingness to compete. Seems overwhelmingly likely to be a bust to me.
Cornet had 23 points in 60 games in his age 20 AHL season, going 7-16-23. He's got 20 goals this year, which is great, but was shooting more than 30% last time I looked. He's already kind of through the "gonna be a scorer" phase – if he's going to make it, it's going to be as a checking/grinding type.
Abney was a ridiculous pick the moment he was made. He was taken 82nd overall, coming off a season in which he scored one goal in 48 games. He's played most of this season in the ECHL (his age 20 season) and has no points in 10 AHL games. A pointless pick, given that you can sign guys like him who have already turned out for $500K on one year deals.
Pitlick and Hamilton are interesting. Both are in their age 20 seasons now. Pitlick has scored 4-6-10 in 35 games. Hamilton has scored 4-5-9 in 35 games. Both under 0.3 PPG. The pre-draft talk was that these guys had some offensive game but they're clearly well off the pace of guys who turn into 0.5 PPG guys or better in the NHL. That leaves making it as a player who doesn't provide a ton of offence. We'll see.
Update: Reading LT's site, I see the following from him in comments to a post on OKC: "I'm shocked at how quickly people are writing off Hartikainen and Omark. AND half a season into Pitlick/Hamilton's pro careers they are np's? Come on, guys. This isn't reasonable, this is framing an issue."
With the data above, while I wouldn't call Pitlick/Hamilton non-prospects, I think it's fair to say that they're not very likely to be scorers at the NHL level.
Turning this back to the bigger picture of the work done by MacGregor, it seems to me that, with respect to his CHL F drafting, he's turned up three players who look like slam dunk 200 GP+ guys with more than 0.5 PPG and nothing else about which we can be certain yet. I'm tipping another post here but, on one method of estimating probabilities of finding players drafting CHL F, the Oilers should have turned up 2.63 200 GP+/0.5+ PPG guys so far (ignoring Czerwonka, Rieder and Ewanyk) and 1.26 200 GP+/0.5- PPG guys – it looks to me like the final total of the former will be 3, with somewhere between 0-2 of the latter, depending on how Pitlick and Hamilton turn out.)
Not bad. But to be honest, it looks pretty average. And CHL drafting is kind of the crown jewel of his case so far. He's found a couple of guys in MPS and Lander who look awfully likely to be at least 200 GP+/0.5- PPG game guys, with MPS having some potential to get above that. Other than that, there are a mess of defencemen about whom it's probably too early to say anything. To be clear, I'm not saying that I'm certain that MacGregor is bad at what he does, only that I'm not certain that he's good at it and, in the absence of confirmation one way or the other, I'm not sure why "Magnificent Bastard" would be our default evaluation.
Average would still leave MacGregor as the best thing about this Oilers management team. With that said, I'm not yet convinced that the best thing in the Oilers' quest to pile up talent isn't Tambellini's continual generation of high end draft picks, the kind that even an average scouting department can make hay with. MacGregor's early returns, adjusting for draft slot, look average, to slightly above average. Don't let anyone tell you otherwise.